Divested of security cover under the Special Protection Group, Congress interim president Sonia Gandhi, the Congress leader has instead been allotted a 2010 make Tata Safari with ballistic resistance, media reports said.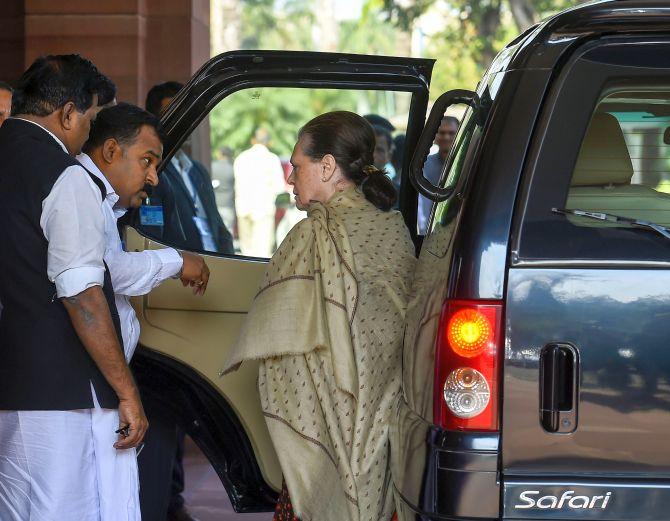 Earlier this month, the SPG cover for the Gandhis -- Sonia, Rahul and Priyanka Vadra -- was withdrawn and they were placed under the Z-plus category, which ensures security cover by around 100 Central Reserve Police Force personnel along with reinforcement from Delhi Police force as and when required.
Also, instead of special bullet-proof vehicles, they have been provided with Tata Safaris of 2010 vintage. Under SPG protection, Sonia Gandhi and Priyanka Gandhi were using Range Rovers with Ballistic Resistance and Rahul Gandhi was using a Fortuner.
Former Prime Minister Manmohan Singh, whose security was also downgraded, has been given an armoured BMW car from the SPG pool.
The Congress has been raising the issue in Parliament, questioning the government's objective behind cutting down security for the members of the Gandhi family.
On Wednesday too, hundreds of Congress youth-wing members descended on the streets in central Delhi and burnt an effigy of the home minister to protest the withdrawal of SPG security cover of the Gandhis.
The matter was raised in Rajya Sabha as well, by Congress leader Anand Sharma, who demanded the restoration of the SPG cover to the Gandhi family and former Prime Minister Manmohan Singh by "rising above partisan politics" but senior Bharatiya Janata Party leaders maintained the decision was taken by the home ministry based on threat perception.