It is celebration time for the residents of the nondescript Maharishi Dayanand Vihar colony in Kalyanpur as one among them -- Ram Nath Kovind -- was rather unexpectedly announced on Monday as the ruling National Democratic Alliance's presidential candidate.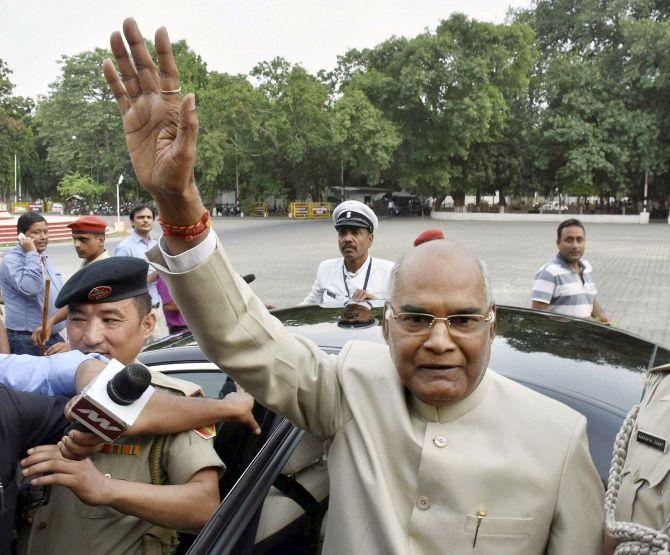 Since the moment Kovind's name was announced in New Delhi, scores of Bharatiya Janata Party workers, especially those associated with the Kalyanpur Vypar Mandal descended in Kanpur with crackers and sweets, dancing to drum beats.
Kovind, the 71-year-old BJP veteran, who rose from a modest background to become the Governor of Bihar and is now, in all likelihood, set to occupy the country's highest constitutional office.
Associates and neighbours in Maharishi Dayanand Vihar remember Kovind as a simple, soft spoken person who has maintained relations with those who have been with him.
"He comes from modest background and has achieved heights sheerly by the dint of his hardwork and dedication...He did LLB and had also appeared for the civil services exam but had to opt out due to medical reasons," Ashok Trivedi, who served as the two-time MP's PRO from 1996 to 2008, told PTI.
According to Trivedi, Kovind is a man of simple tastes.
"His likings are simple. He likes simple food and is not very fond of sweets. He has stayed in touch with all of us. He last visited my home in 2012 after coming to know of my wife's death," Trivedi recalled.
The presidential nominee, along with his wife Savita, visited this colony almost one-and-a-half month ago back.
Kusuma Rathore, in her sixties, has been the caretaker of Kovind's modest mini-HIG house for the past 15 years.
Kovind's two children, a son and daughter, are both married and well settled, she says, adding that during his visits he has generally been staying either at the circuit house or some other government accommodation.
The residence of the man, who is set to be the next president of India, does not exhibit signs of power or pelf. Only a simple nameplate that would let a passerby know that it belongs to Ramnath Kovind, an MP.
According to Rathore, till only a few years back, the house was a bit secluded.
So much so that it was burgled thrice, the caretaker said.
Next door neighbour Devendra Juneja is a long time associate who went to the 'RSS shakha' with Kovind. "It is a big day for me and for all those who had known Kovind...He is a very down to earth person and has always been concerned about all those around him," Juneja said.
In Paraukh, Kovind's native village, located in the Jhinjhak area of Kanpur Dehat, it's 'Diwali' time with fire crackers being burst and sweets being distributed.
Kovind's niece Hemlata, a teacher in a government school there, says, "I had met him in Patna about 10 days ago but till then there was no such thing in our notice..It is a matter of pride that our uncle will be the president."
IMAGE: NDA's presidential candidate Ram Nath Kovind at Raj Bhavan in Patna. Photograph: PTI Photo