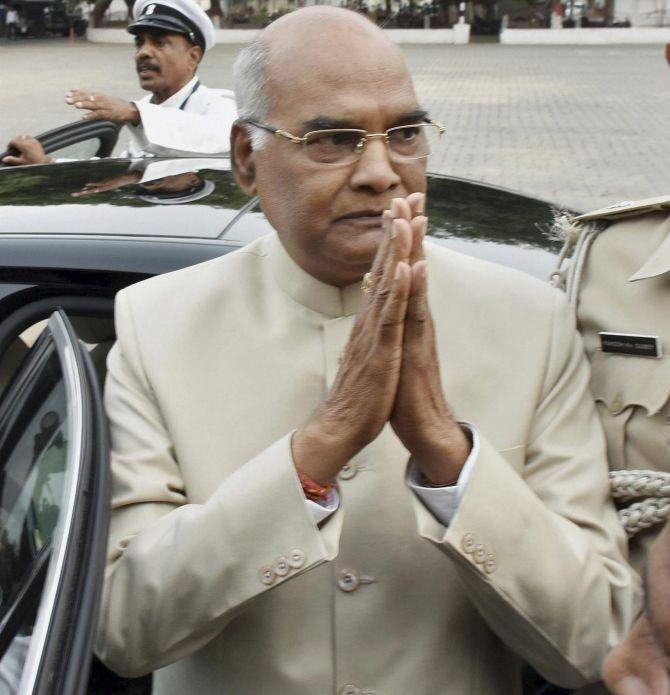 Ram Nath Kovind will make an exceptional President and continue to be a strong voice for the poor, downtrodden and marginalised, Prime Minister Narendra Modi said on Monday.
His remarks came hours after the Bharatiya Janata Party Parliamentary Board declared Bihar Governor Kovind as the National Democratic Alliance's choice for President.
'I am sure Shri Ram Nath Kovind will make an exceptional President & continue to be a strong voice for the poor, downtrodden & marginalised,' the prime minister tweeted.
He said with an illustrious background in the legal arena, Kovind's knowledge and understanding of the Constitution will benefit the nation.
Modi pointed out that Kovind, a farmer's son, comes from a humble background.
'He devoted his life to public service & worked for poor & marginalised,' he said in another tweet.
However, the Congress spurned the BJP's appeal for consensus on its choice for president and said the Opposition would take a call on contesting the election after a meeting on June 22.
The BJP had taken a 'unilateral decision', Congress leader Ghulam Nabi Azad said soon after the announcement of Kovind as the NDA's candidate.
"Congress does not want to comment on this issue as we want to take a unanimous decision with all other opposition parties on the presidential elections. The final call will be taken in a meeting of all opposition parties on June 22," Azad told reporters.
Terming the BJP's efforts to reach out to the Opposition through its senior leaders as a 'formality and a PR exercise', Azad said the ruling party should have built consensus before announcing the candidate.
"But they informed us after announcing this decision so there is no scope for consensus now... we were not expecting this from the ruling party. But it is their will, they are free to take a one-sided unilateral decision," Azad added.
No names were discussed when senior BJP leaders M Venkaiah Naidu and Rajnath Singh met Congress president Sonia Gandhi last week, the Congress leader said.
Asked to comment on the BJP fielding a Dalit candidate for the top constitutional post, Azad said, "...I don't want to comment on this...I don't want to comment on the merits and demerits of the candidate."
He added that minorities, backwards and Dalits were not priorities for the BJP-led government. Atrocities on Dalits in Saharanpur were a clear example of this.
Lok Janshakti Party chief Ram Vilas Paswan extended full support to Kovind, saying his choice is a political masterstroke by Modi.
He also asked opposition parties to support the Dalit candidate, claiming that if they put up a candidate against Kovind then they would be seen as 'anti-Dalit'.
"This is an historic decision. The Opposition should support the NDA candidate, rising above politics. If they don't support, it would mean they are anti-Dalits," Paswan told reporters in New Delhi.
If opposition parties field a Dalit against Kovind, then it will be nothing but 'vote-katva' (aimed at denting support to Kovind) politics, noted the LJP leader, a BJP ally.
"Every political party has its agenda. It is a slap on those parties who claim they work for Dalits but in reality have not done anything for the community," Paswan added.
The Telangana Rashtra Samiti also announced support for the BJP's nominee and also claimed it had suggested earlier fielding a Dalit candidate.
Soon after Kovind's candidature was announced, Modi telephoned Telangana Chief Minister K Chandrasekhar Rao and requested his support, the CM's office said in a release.
The PM told the CM 'as per your (the chief minister's) suggestion, we have decided upon a Dalit candidate for the presidential post', and requested his support for the candidate, the release said.
Immediately after receiving Modi's call, the chief minister consulted his party colleagues.
'Later, he conveyed his party's support for the presidential candidate to the PM,' it said.
TRS floor leader in Lok Sabha A P Jithender Reddy said, "After Amit Shah declared the candidate, Prime Minister Modi called up Mr KCR -- the first person to be telephoned by Modi after the decision -- and asked him for the support and KCR has very openly said that as he is a Dalit leader and is a very good person, we whole-heartedly support him."
While expressing his happiness on Kovind being nominated as NDA's presidential nominee, Bihar Chief Minister Nitish Kumar said that a thorough discussion will be held on the matter within the Janata Dal-United.
Speaking to the media in Patna after meeting Kovind, the chief minister said, "It was my duty to meet him and I expressed my respect to him."
However, he assured that a meeting will be held on the matter as well.
"I had a word with Laluji and Sonia Gandhi and there will be discussion on this. I have told them about my views," he said.
Uttar Pradesh Chief Minister Yogi Adityanath asked opposition parties to rise above party politics and support Kovind.
Describing Kovind's candidature as supreme honour of the Dalit samaj, Adityanath at a hurriedly convened press conference said someone from among them has been selected for the top most constitutional post of the country.
"It is a new social awakening that a Dalit has been selected for the top most constitutional post of the country for which I want to thank Prime Minister Narendra Modi and BJP president Amit Shah on behalf of the people of the state," the chief minister stressed.
"It is my appeal to all political parties to rise above party politics and support the son of Uttar Pradesh to become the President," he said, adding that this was his personal appeal as well as that on behalf of his government.
"It is a matter of pride for the 22 crore people of the state," he said.
Bahujan Samaj Party chief Mayawati said that her party cannot take a negative stand against a Dalit nominee.
She, however, stopped short of expressing immediate support for Kovind saying the BSP will be positive provided the opposition does not field any Dalit for the top post.
"The BSP's stand cannot be negative towards a Dalit nominee for the post of president. Our stand will be positive provided the opposition does not field any Dalit for the top post," she said.
The BSP chief, however, said it would have been better if all opposition parties were taken into confidence by the BJP-led NDA at the Centre before announcing the name of its candidate.
Virtually expressing her party's reservation about the candidature of Kovind, Trinamool Congress supremo and West Bengal Chief Minister Mamata Banerjee claimed that the Bihar governor was nominated only because he had been a leader of the BJP's Dalit Morcha in the past.
'There are other big Dalit leaders in the country. Just because he (Kovind) was a leader of the BJP's Dalit Morcha, they have nominated him,' she said in a statement.
'The office of President is a key post. Someone of the stature of Pranab Mukherjee or even Sushma Swaraj or (L K) Advaniji may have been made the candidate.
'In order to support someone, we must know the person. The candidate should be someone who would be beneficial for the country. The opposition will meet on June 22, only after that can we announce our decision,' the West Bengal chief minister added.
She, however, said, 'I am not for a moment saying that Bihar Governor Ram Nath Kovind is unfit for the post of President. I have spoken to two or three opposition leaders, they too are surprised. There are other big Dalit leaders in the country,' she said.
The chief national spokesperson of the TMC, Derek O'Brien, claimed that the party was not informed of Kovind's nomination by the NDA for the post of president.
'The name was announced at a BJP press conference. That's how we got to know. Not even informed (sic),' he wrote on Twitter.
Keeping up the suspense, Shiv Sena said party chief Uddhav Thackeray will convene a meeting of Sena leaders to decide on supporting the ruling alliance's choice for president.
"Amit Shah called up Uddhavji after the NDA's presidential candidate was decided by the BJP's parliamentary board meeting. Shah sought the Sena's support for Ram Nath Kovind," Shiv Sena MP Sanjay Raut told reporters in Mumbai.
"Uddhavji told him that he will convene a meeting of the party leaders to arrive at a decision and convey our answer to him in one or two days," he said.
"We had suggested two names for the post. One was of (RSS chief) Mohan Bhagwat. If they (BJP) had a problem with that, we wanted (eminent agriculturist) M S Swaminathan. But since they have chosen some other name, the party will convey to the BJP our decision soon," Raut said.
Meanwhile, parties that announced support to Kovind include Jagan Mohan Reddy's Yuvajana Shramika Rythu Congress and Puducherry's opposition All India N R Congress.
YSRC president Y S Jagan Mohan Reddy announced that his party would support Kovind's candidature for the top post as he was a Dalit leader.
Jagan gave this assurance to Shah, when the latter called him over the phone this afternoon seeking the YSRC's support for the ruling coalition's nominee.
Leader of the opposition in Puducherry assembly and AINRC founder N Rangasamy said in a release that 'AINRC extends its full support to Kovind for his win in the presidential election'.
Rangasamy said that Kovind, born in a modest agriculturist family, had dedicated himself in public life and had been serving the nation.
With ANI inputs
IMAGE: Bihar Governor Ram Nath Kovind, NDA's presidential candidate, greets the media as he leaves for Delhi, at Raj Bhavan in Patna on Monday. Photograph: PTI Photo