Amid a tussle over leadership with his former deputy Sachin Pilot, Rajasthan Chief Minister Ashok Gehlot on Monday said the media should not make people fight.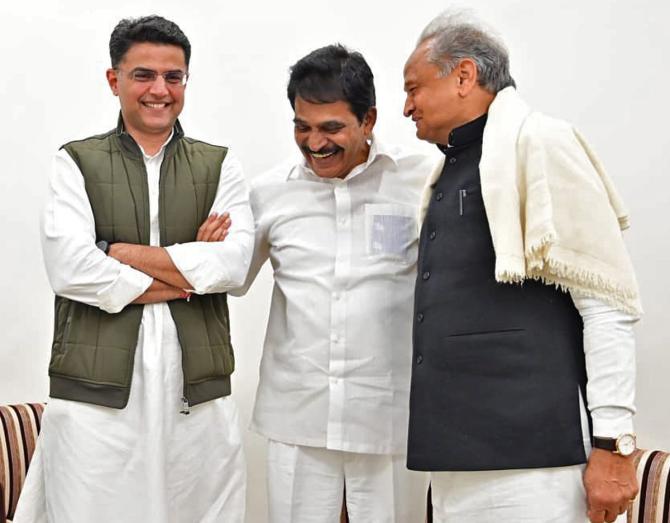 Addressing reporters in Jaipur, he asserted that the Congress' election campaign in the state would focus on the schemes and programmes launched by his government.
The veteran Congress leader also expressed confidence of his government returning to power on the basis of the works done in the last five years.
Gehlot's comments come in the backdrop of an ongoing tussle with Pilot.
The duo has been at loggerheads over the chief minister's post ever since the Congress formed the government in Rajasthan in December 2018.
Recently, Pilot opened another front against Gehlot by holding a day-long fast while alleging that the state government did not take action against the alleged corruption during the tenure of the Bharatiya Janata Party regime led by Vasundhara Raje, as promised before the 2018 assembly polls.
Gehlot, however, has not offered any direct reaction to Pilot's attack.
On Monday, he said without naming anyone that the media should not make people fight.
"The media should stick to the truth and the facts… The media should not make us fight with each other. They (mediapersons) should fulfil their duty and it is in the public interest… The media should support the government in repeating on the basis of truth," he said.
"I do not say 'present false figures or praise us falsely' but I would like the media to run on the basis of truth. The media is under the pressure of the central government but they should see the interest of the public," Gehlot told reporters.
Speaking about his government's schemes and the upcoming assembly elections, the Congress leader said the party's campaign would focus on the schemes of his dispensation.
"In the elections, Prime Minister (Narendra Modi), (Union Home Minister) Amit Shah will come and take part in big road shows, spend money and do everything to win the elections but we have decided that we will move forward on the basis of the (state) government's works," he said.
Assembly elections in Rajasthan are due later this year.
The state government has taken many decisions, Gehlot said, and lauded it for its excellent fiscal management and step to not impose any tax.
"We will move forward with these things. Our campaign will revolve around this. BJP leaders who come will speak so many things but we will not pay attention to them. We will do our work," he said.
The government is fulfilling the pledge of serving the public and fulfilling promises, Gehlot said.