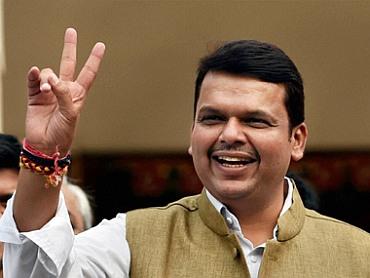 Amid the continuing stand-off with the Bharatiya Janata Party over the proposal to appoint a Chief Executive Officer for Mumbai, the Shiv Sena on Monday warned its former ally to consult it before taking any such decision for the megapolis.
"The current CM has big plans for the state. He wants to do good work for Maharashtra. But it will be better for the BJP if they consult the Shiv Sena and know its stand before taking any decision on the capital of Maharashtra," the Sena said in its edit mouthpiece Saamana.
"What will you achieve by appointing a CEO? We request you to not invite the wrath or curse of Mumbaikars," it said.
Fadnavis's idea to have a CEO is for administrative convenience, as several ongoing projects, according to him in Mumbai and the Mumbai Metropolitan Region are delayed due to lack of coordination and jurisdictional issues.
As per the proposal, the CEO would be an officer of the rank of additional chief secretary.
The Sena said it would be wise for the CM to ponder over the work done by agencies like Mumbai Metropolitan Region Development Authority that were formed for the development of Mumbai before taking a decision on the CEO.
"The previous state government in the name of development of the city had created agencies like the MMRDA. What success did it have in addressing the problems of Mumbai and developing the city? It will be good for the CM to study all these facts before he arrives on a decision," the Sena said.
"The CM will be increasing the problems of the city rather than decreasing them if he takes such decisions. If he is truly working for the city's benefit, he should give more power to civic officials and help them work for Mumbai," it added.
Shiv Sena MP Rahul Shewale had earlier alleged that the CEO post is being created to separate Mumbai from Maharashtra.
"When he (Fadnavis) talks about creating a CEO's post for Mumbai, it seems that the BJP wants to separate Mumbai from the rest of the state. They have similar views on Vidarbha. We will oppose this," Shewale had said.
Image: Chief Minister Devendra Fadnavis had suggested that a CEO should be appointed for the city of Mumbai for administrative convenience.