On the eve of Global Tiger Day, Union Environment Minister Prakash Javadekar declared: 'Despite India's constraint of 2.5 per cent of global land, four per cent of rainfall and 16 per cent of world's human population, India is home to eight per cent of world's biodiversity which includes 70 per cent of the world's tiger population.'
Ironically, the same day, the Karnataka government deleted Tipu Sultan, from school textbooks.
Last year, Karnataka Chief Minister B S Yediyurappa had stated that his government was considering removing all references to Tipu Sultan from school textbooks.
Yediyurappa's Bharatiya Janata Party is allergic to the 'Tiger of Mysore', claiming that Tipu Sultan was a Muslim bigot responsible for anti-Hindu pogroms during his rule.
Yediyurappa's government cancelled the Tipu Sultan birth anniversary celebrations, which were to be held on November 10, 2019.
Dominic Xavier offers his take on the BJP's Tiger dilemma -- boast of India's success in enlarging the tiger population on the planet and airbrush the 'Tiger of Mysore's presence out of Karnataka history.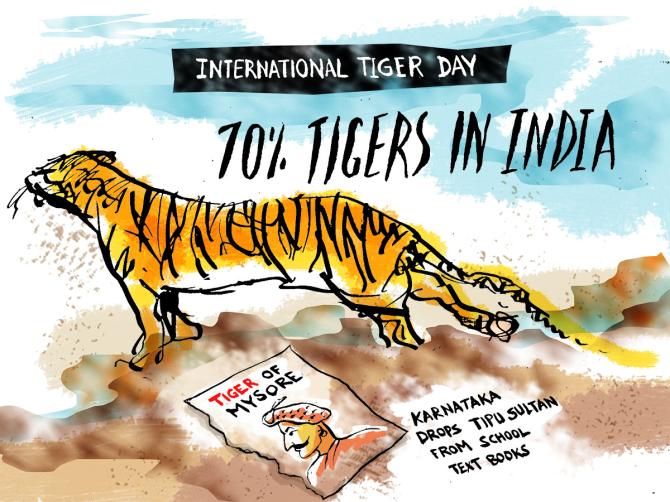 Feature Presentation: Aslam Hunani/Rediff.com