A back of the envelope calculation shows that India has roughly over 680 million doses of Covid-19 vaccines consisting primarily of Covishield, reports Sohini Das.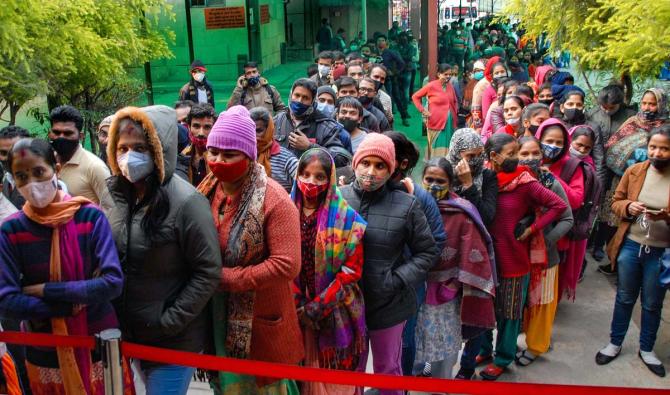 India will begin to give a third shot to a section of its elderly population from January 10, besides opening up vaccination for children aged 15 and above.
But do we have enough vaccine stockpiles in the country to support a seamless drive?
A back of the envelope calculation shows that India has roughly over 680 million doses of Covid-19 vaccines consisting primarily of Covishield.
This includes the 179 million unused doses available with states as of December 26, and a stockpile of 500 million doses lying at Serum Institute of India's Pune plant.
Vaccination for children aged 15 and above is allowed from January 3.
There are some 120 million children aged 12-18, and in all around 400 million under 18. It can be estimated that the demand for adolescent vaccination (15-18 years) would be less than 70-80 million.
For the 'precaution shot' for the elderly, people above 60 with comorbidities are eligible.
India's elderly population is 138 million, according to the National Statistical Office's 'Elderly in India 2021' report.
Even if we consider 50 per cent of this population to have serious comorbidities making them eligible for a third Covid-19 shot, the number roughly comes to 70 million.
Together, children and the elderly would create an additional demand of 140 million doses or so.
Of this, children would only be administered Covaxin (and not ZyCoV-D), while the elderly could be given either Covishield, Covaxin, Sputnik V or ZyCoV-D.
Government sources indicated that the gap between the second dose and the additional dose for the elderly is nine months at least.
Therefore, the demand would grow gradually as more people become eligible. Vaccinations for the elderly began in March last year.
We do not know the stock lying with Bharat Biotech and Dr Reddy's Laboratories for Covaxin and Sputnik V, respectively.
However, a senior Bharat Biotech official said: "We will start our batches to make about 80 million doses a month soon. The supplies would come to the market around March-April.
"It takes 90 days or so to make Covaxin, and then there are quality checks at the plant, followed by certification by government laboratories, after which the vaccines are released into the market."
Zydus Cadila's yet to be launched DNA plasmid vaccine ZyCoV-D is expected to add to the vaccine supply.
Zydus Cadila MD Sharvil Patel said that its partner Shilpa Medicare will start commercial production from January, and the company would be able to supply 10 million monthly doses from February-March.
Meanwhile, SII is in a wait-and-watch mode before it steps on the gas to produce a large number of Covishield doses. The company has cut down production by half in the wake of muted demand for its vaccine.
It has a stock of 500 million doses, of which 50 per cent are in bulk form, which can be converted into finished formulation in about a month's time or so.
The company has a capacity to store 600-700 million doses at its site, and is making only 120-125 million doses a month now, down from 250 million a month earlier.
SII said it cannot comment on plans to ramp up production till there is information from the government. The Centre is expected to release guidelines for children and elderly vaccinations in the coming weeks.
A crucial factor in determining demand is whether the government will opt for a mix-and-match vaccine approach for the additional shots for the elderly.
Experts say mixing vaccine shots may give better results to boost immunity.
However, AstraZeneca recently said a booster shot of the AstraZeneca-Oxford Covid-19 vaccine Vaxzevria significantly boosts antibody levels against the Omicron variant.
More vaccines, too, are to hit the market soon: Covovax (SII), Corbevax (Biological E), and intranasal vaccine BBV154 (Bharat Biotech).
Biological E has the capacity to make one billion doses of Corbevax annually, but the vaccine is not yet approved.
Bharat Biotech aims to make 80 million doses a month or 1 billion annual doses of BBV154, which is in clinical trials now.
And SII has submitted Covovax data to the drug regulator; approval is awaited. SII can make 50 million monthly doses of the vaccine at Pune.