'Whether the substantial hybrid immunity present in India can protect against severe consequences of the disease remains to be seen.'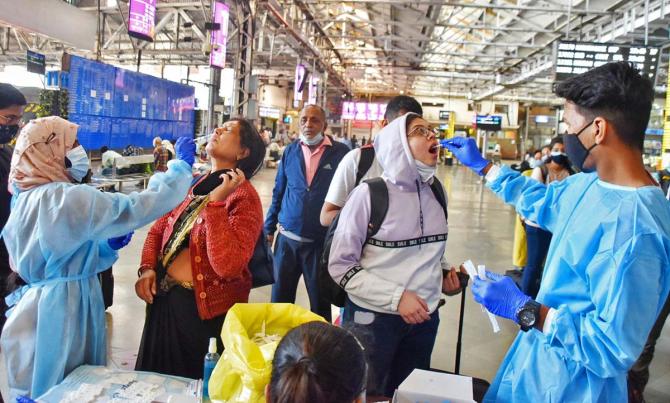 As Omicron cases rise around the world, more data about the variant is now being generated.
Gautam Menon is professor of physics and biology at Ashoka University, and professor (on lien) with the Theoretical Physics and Computational Biology groups at the Institute of Mathematical Sciences, Chennai.
Professor Menon tells Ruchika Chitravanshi that it is not the number of Omicron cases but how many of them are getting hospitalised that should concern us.
There are concerns that the number of Omicron cases detected in India is an underestimation. Given that, how should we ramp up our genome sequencing efforts?
The number of detected cases almost surely underestimates the actual number. Exactly by how much is difficult to say, since -- at least as far as we know now -- symptoms tend to be milder in those with some form of prior immunity and many will be asymptomatic anyway when infected.
It is possible that the actual number of Omicron cases currently may exceed the number of detected cases by a substantial factor, but we are unlikely to find them with our current testing.
For me, what matters far less is the number of detected cases. It's the fraction of those infected who may need hospitalisation that should be the question right now.
The total number of Covid cases in India has been below 10,000. How long before the variant very much present in our country, even among those with no travel history, leads to a surge?
Also, how concerned are you about such cases since our major focus on genome sequencing is for international travellers currently?
There was a case of one patient in Karnataka who had no known connection to any international travel. This suggested some level of community spread.
Given what we know of how Omicron has spread outside India, in the UK and Denmark, it is likely that we will see a surge in India as well, likely by January.
At that point, we may have to re-evaluate our sequencing strategies to detect hotspots of community transmission of Omicron.
Now that it has been more than three weeks since Omicron was detected in India, what do we know about with greater surety about the variant? Can we agree that the variant is less severe, though more infectious?
It is certainly more infectious.
Preliminary reports suggest that the likelihood is that it leads to less severe disease overall, although we can only be sure of this in the coming weeks, since the fractions of critical cases and associated mortality take longer to assess, because there are lags.
What does it mean for India and do you think it can cause a third wave here, given what is happening in the UK and the US where it is becoming the dominant strain?
I am certain that there will be an increase in cases of Omicron in the coming weeks, given what we know of its spread elsewhere in the world.
Whether the substantial hybrid immunity present in India can protect against severe consequences of the disease remains to be seen, but it is not unreasonable to be hopeful about this.
Do you think there is a threat that Omicron, even if it is less severe, can lead to more mutations, which might cause more severe diseases? Or could it mark the endemic stage with the virus now becoming less virulent?
There is no doubt, at least in my mind, that Covid will become an endemic disease, with or without the Omicron variant.
It may well mutate further, but whether it will mutate into a version that may cause more severe disease is an open question and it isn't useful to speculate about this.
Feature Presentation: Ashish Narsale/Rediff.com