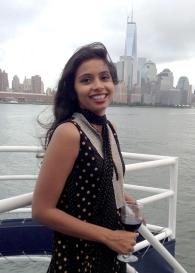 The Indian embassy in Washington, DC, has issued a statement following the arrest of Devyani Khobragade, India's deputy consul general in New York.
'Action was apparently taken against Khobragade on the basis of allegations raised by the officer's former India-based domestic assistant (maid's name deleted), who has been absconding since June this year,' the statement said. 'In this context the Delhi high court had issued an-interim injunction in September to restrain (maid's name deleted) from instituting any actions or proceedings against Khobragade outside India on the terms or conditions of her employment.'
The US government, the statement added, 'had subsequently been requested to locate (name deleted) and facilitate the service of an arrest warrant, issued by the Metropolitan Magistrate of the South District Court in New Delhi.'
The Indian embassy, the statement said, had immediately conveyed its strong concern to the US government.
'The US side have been urged to resolve the matter with due sensitivity, taking into account the existing court case in India that has already been brought to their attention by the government of India, and the diplomatic status of the officer concerned,' it said.It did not address more details, like the alleged false information filed by Khobragade regarding the visa application for her domestic help.
A few years ago, India's external affairs ministry had issued an advisory to Indian Foreign Service officials posted outside New Delhi to scrupulously stay away from such incidents.
Image: Devyani Khobragade ' Photograph: www.facebook.com/devyani.khobragade/