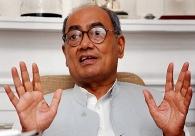 Congress General Secretary Digvijaya Singh on Thursday expressed doubt about whether giving autonomy to the Central Bureau of Investigation would serve any purpose.
"There is a question mark on the issue," he told reporters.
"Giving autonomy to the CBI may be like giving autonomy to a police inspector," Singh said.
"Is the common man in favour of giving autonomy to an inspector," he asked.
The issue of CBI's autonomy has come to the fore following the Supreme Court calling the agency "a caged parrot".
Singh said he wondered whether courts would now start passing comments against the offices of President and the prime minister, and added that it would impact the democracy's "balance".
The judiciary, the executive and the legislature should work within their boundaries so that their dignity remains intact, he said.
"If a court registers its objections in writing then it can be appealed, but where can one file an appeal against oral comments like 'caged parrot'," he said.
"I am more concerned for the future, especially if after any adverse comment by any court against the Parliament, president and prime minister. The situation will take a turn for the worse as all these institutions were established by the Constitution," Singh said.
The Congress general secretary clarified that he respects the judiciary, but had an issue only with the 'caged parrot' comment.