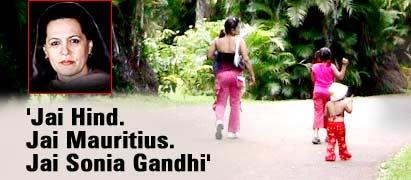 Over the years and many a travelled mile later, I have come to the conclusion that cab drivers are perhaps the best cultural and political barometers of the place you are visiting. And given the high probability of finding an Indian face behind the wheel, things tend to get a bit more interesting.
Cabbies seem to an opinion on just about everything -- be it the quintessential bhaiyya in Mumbai espousing his views on prostitution in Mumbai and Laloo Prasad Yadav's political future or Daljit Singh in NY explaining the intricacies of the illegal immigration racket from Phagwara to Canada to NYC.
"In only three years I have managed to buy my own cab... would I have been able to do this in Phagwara? What's more, my brother Gurjeet is joining me next week," he proclaimed, his chest puffed with pride.
Then there was Dheeraj Patel in San Francisco. "The tax structure in California is the worst. If you come here to work, it is better to leave your family in India. There is no affordable housing, no public transport. There are power cuts. No hope for average, middle-class working people I tell you," he said.
All this when I was on my way to office from the airport on a possible assignment in the US. You can imagine the impact on my morale.
How can I forget Pradeep Sahaye, whom I met on a recent family holiday in Mauritius?
Our plane was circling for its final approach to the runway and I could see the inviting blue-green waters of the Indian Ocean. This was one place that looked exactly like the brochure. "Your pick-up cab will be waiting for you at the airport," I recollected the travel agent's words.

"There's our driver, dad," my eight-year-old daughter had spotted my name on a placard. We waved to the man holding it. With an official census figure that put the Hindu population at 55 per cent, it wasn't too hard to guess his ethnicity.
"You Gandi?" he beamed at me. His pearly whites shone against his beach tan. He was tall and lean; a pair of dark glares perched on his head.

"Yeah, that's right. Gandhi," I corrected him.
"Yes. Glad to meet you Mr Gandi."
I thought of correcting him again, before I remembered the French-influenced local dialect.

"Do you know Sonia Gandi?" he asked as he helped with us with our bags. Was it my imagination or were his eyes getting rounder by the minute? And what was this fixation with the surname?
"Yes. I mean... who doesn't know Sonia Gandhi. Especially after last week," I replied. We were in Mauritius just after the Congress' unexpected victory in the general elections.

"Wow. You know her. That's great." He ignored the second half of my response.
Suddenly, it started raining.
Enjoy endless sunny days, the brochure had promised us.
My wife glared at me as if I had ordered the rain as part of the package deal so I could laze in the room all day.
"What's with the rain?" I asked our driver hastily.
"Oh... just a small black cloud sir... on a bright blue sky. Don't worry, it will go away soon," he replied.
Having flown out the morning of the most spectacular stock market slump in Indian history, I could not help compare the black cloud to a blot on the clear sky that was shining over India for the past two years.
Another Indian family from Mumbai joined us.
"Hi, I am Dara and this is my wife Jenny and our two daughters."
We exchanged introductions and were soon on our way.

"So what's your name?" I asked the driver.
"Pradeep Sahaye," he responded.
Actually anyone could have easily guessed it. There were more Indian motifs in the van than in a handicrafts showroom in Mumbai. A Ganesh idol sat proudly on the dashboard, a smiling Krishna looked upon us from the windshield, a bright orange 'Jai Mata Di' scarf waved proudly from the rearview mirror and an 'Om' medallion completed the picture.

Soon, we hit the highway.
The one thing that strikes you as you drive around Mauritius is the sugarcane. It was as if someone had cut a swathe through a huge sugarcane field to create a country. Its endless rows of sugarcane gave the highway a beautiful natural boundary.
"Why are these trees running so fast?" asked my two-year-old innocently, prompting a round of laughter.

"Are you from India, Pradeep?" asked my wife.
"No. I was born here. My great-great-grandfather came here as a slave from Bihar to work in these fields," he pointed to the sugarcane.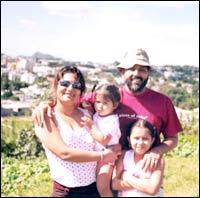 The fields suddenly took on a sepia toned hue in my mind as I visualised Indian peasants toiling away. It occurred to me at that moment that our country's USP has been consistent over centuries -- cheap labour. Only now, the keyboard and the mouse have replaced the sickle and plough. The headscarf has given way to the coaxial headset and microphone.
"Now, our full family is here in Mauritius. Jai Hind, Jai Mauritius, Jai Sonia Gandi," Pradeep continued. I was a bit taken aback by his choice of words but chose not to comment (Jasmeet with his family).
"Will she become prime minister of India?" he asked.
"I don't know. But it sure looks like she is all set to apply for the post." I replied.

It started raining again.
"Looks like another small dark cloud sir," offered Pradeep.
I could not help wonder about the juxtaposition of the last two statements... was there a prophecy lurking around here somewhere?

"Are you married?" Dara asked him.
"Not yet. But my girlfriend is coming from India next month. She lives in Delhi. I love Indian women. I love Priety Zinta. Jai Hind, Jai Mauritius. Jai Sonia Gandi."
He hit the dial on the radio and Sonu Nigam's voice filled the van with the title track from Kal Ho Naa Ho.
"I love Hindi movies," grinned Pradeep.
Everybody looked at each other; there was a sense of camaraderie in the air as people from different worlds found a common thread to hold on to. Except me, that is.

Shit. Here I was, a world away from the hustle and bustle of Mumbai. I had paid loads of money to get away from all things familiar only to find myself surrounded by everything that reminded me of home.
"Should have taken the Kashmir trip package," I berated myself mentally.
I wonder whether it is a global phenomenon where, in their zest to make visitors comfortable, the hosts offer them familiar food, entertainment, news, etc, or is it a typical Indian trait to stick to your roots that makes us carry our papads, pickles and dhoklas wherever we go.

"There is a musical show this weekend," Pradeep said.
Ah! A good chance to take a peek at the local culture, I thought.
"Udit Narayan is performing with his group. Let me know if you want tickets."
I was tempted to undo my five-metre turban and wrap it around his mouth. But Dara and family were quite excited.
"Let's go dear. Where will we get a chance to see a live performance in Mumbai? There is no time for all such social activities," Dara suggested to his wife, who seemed quite delighted.
He is just being helpful I told myself as I tried to calm my nerves.
The sugarcane fields were still whizzing past. Kumar Sanu replaced Nigam on the radio.

After what seemed like a long time, the fields made way for pretty bungalows. The Indian Ocean loomed in the distance. A sign by the road indicated we were three kilometres away from our hotel.
I decided to ask Pradeep the question that had been on my mind for some time.
"Why do you like Sonia Gandhi so much?"
"I think she is the best thing that could happen to India," he replied.
"Why?" I asked.
"Look at how you have fared under the Indian netas [leaders]. Compare it to the progress during the British rule. Just look at us! We are Indians -- Biharis -- but look at the way we live our lives. Look at this beautiful place. We have a strong currency; it's better than yours. Our government has more dollars than yours. We have peace... no ethnic riots like India. We have free education, free medicine. During the off season, we go on vacation wherever we want."
After a pause, he added, "I think Indians fare better when ruled by foreigners."
Before anyone could react, the van screeched to a halt. We had arrived. The porters started unloading our luggage. As the van backed from the driveway, Pradeep craned out of the window, winked and gave me a thumbs-up sign.
I knew what was coming.
"Jai Hind, Jai Mauritius, Jai Sonia Gandi," we chanted in unison.
Photographs: Jasmeet Gandhi
Image: Uday Kuckian