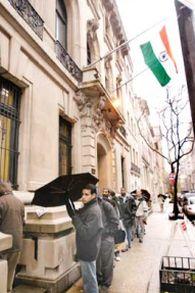 The National Domestic Workers Alliance and the United Workers Congress have called for an International Day of Action to support Sangeeta Richard, who had been hired by Indian diplomat Devyani Khobragade as a domestic help and babysitter.
A Facebook post issued by the NDWA has called for a march to the Indian consulate in New York at noon on Friday, December 20, to show its support for Richard, as well as demand that the Indian government prosecute Dr Khobragade and take action against such employers; publicly recognise the rights of domestic workers and ratify the ILO Convention 189; and to compensate the worker in this case and her family in India, says the FB post.
Apart from New York, the announcement said that international action will also take place on Friday in San Francisco, Hong Kong and India.
On Thursday, Richard's lawyer Dana Sussman said it was frustrating and disappointing that the focus in the case has shifted from the crimes that were allegedly committed against her client to the Indian diplomat.
The NDWA alleged that Richard was 'exploited' by Dr Khobragade who 'claimed that the worker would be paid $4,500 a month and then only paid her $3.31 an hour.'
'She (Dr Khobragade) also verbally abused her, confiscated her passport and told her she had no other options," the NDWA alleged in its call for a protest march to the Indian consulate.
Image: The Indian consulate in New York. Photograph: Paresh Gandhi/Rediff.com