Former US administration officials and experts believe that the US must consider making a more formal apology admitting that the manner in which Devyani Khobragade was taken under arrest was a mistake and should have never happened. Aziz Haniffa reports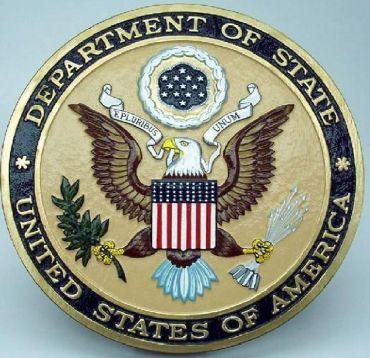 A former senior official in the former United States President Bill Clinton's administration has said that 'regret' just does not cut it and that the US is obligated to issue a full-throated unqualified apology for the way India's Deputy Consul General in New York Devyani Khobragade was treated by law enforcement authorities.
Karl 'Rick' Inderfurth, erstwhile assistant secretary of state for South Asian affairs in the Clinton administration, told rediff.com, "The incident involving India's deputy consul general was outrageous, deplorable and inexcusable. Period. Full stop."

He said, "The initial State Department response was unacceptable and decidedly undiplomatic, saying US officials were merely following 'standard procedures' and the provisions of the Vienna Convention."
Inderfurth said, "Falling back on legalisms was totally tone deaf."
He acknowledged that "Secretary (of State John F) Kerry's phone call to National Security Adviser (Shiv Shankar) Menon expressing regret was helpful, but not sufficient."
"A formal US apology to Khobragade is called for -- as well as social and cultural sensitivity training for the US Marshalls Service and the State Department's public affairs office," Inderfurth added.
Echoing similar sentiments, Lisa Curtis, who heads the South Asia Programme at the conservative Heritage Foundation -- a WashingtonDC think tank -- told rediff.com, "The US took a small step to defuse the crisis when Secretary Kerry called National Security Adviser Menon to express regret about the situation. However, the gesture does not appear to have been sufficient to get relations back on an even keel."

Curtis, a former Central Intelligence Agency analyst and ex-State Department and senior Congressional staffer, said, "The US must consider making a more formal apology admitting that the manner in which Devyani Khobragade was taken under arrest was a mistake and should have never happened."
She said, "US officials seem to be reluctant to issue a formal apology because they fear it could jeopardize the legal process," but she argued, "This concern will have to be weighed with the fact that India is an important friend of the US and that amends must be made for the sake of the relationship."
Curtis, said, "The Obama administration could make the clear distinction that the mistake was not in making the arrest but rather in not applying appropriate diplomatic protocol during the arrest."
She acknowledged, "There are still many unanswered questions about the case. The Indian government claims the maid was gaming the US system to obtain visas for herself and her family members. The maid's lawyer, on the other hand, claims she was being mistreated and is portraying it as a human trafficking case."

Be that as it may, Curtis said, "The US still has time to rectify the problem by issuing a formal apology. At the same time, India should cool down its rhetoric and restore the security barriers around the US embassy."

Curtis, currently visiting India noted, "Several Indians, while upset about the treatment of Khobragade, view the removal of the security barriers as a petty step by the Indian government."

She bemoaned that "the diplomatic spat has already escalated far beyond what it ever should have, and it is time to arrest the downward spiral," and added, "The US and India have a broad and important agenda to attend to. It would be highly unfortunate if this issue impedes that agenda."