The death toll in Turkey and Syria jolted by multiple earthquakes has reached more than 5,000, even as two fresh tremors hit eastern Turkey on Tuesday, reported the United States Geological Survey.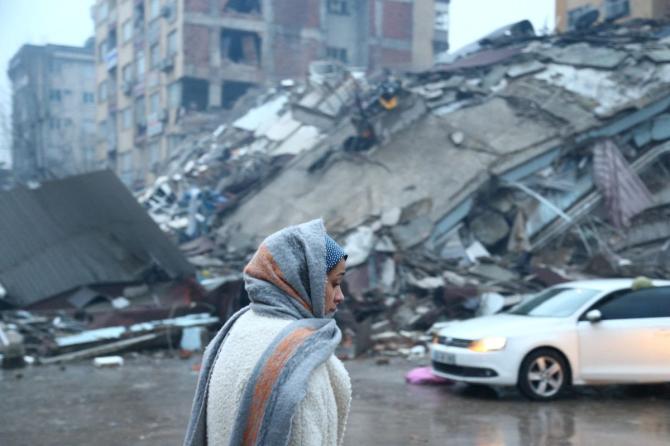 A fresh 5.5-magnitude tremor hit Turkey's Golbasi town located in the Central Anatolia region of Ankara Province, reported the USGS.
It was followed by a fifth earthquake of 5.4 magnitude at around 12.41 pm (local time) at a depth of 6.8 km at the location 38.116°N 38.669°E, added USGS.
At least 5,021 deaths have now been confirmed in Turkey and Syria after a powerful magnitude 7.8 earthquake rocked the region early on Monday, agencies reported.
Turkish Vice President Fuat Oktay said the total number of deaths in the country had risen to 3,419, with another 20,534 people injured.
The death toll in government-held areas of Syria climbed to 812 people, with some 1,450 injured, according to the health ministry.
In the country's rebel-held northwest, the opposition's Syrian Civil Defence, or White Helmets, the paramedic group leading rescue operations, said that at least 790 were killed and more than 2,200 injured.
So far, 11,000 buildings have been reported damaged in Turkey, he said.
Nearly 25,000 emergency responders are working at scenes impacted, Tatar added.
Rescuers are using at least 10 ships and 54 aircraft to transport the wounded and help with search operations, he said.
The quake, one of the strongest to hit the region in more than 100 years, struck 23 kilometres (14.2 miles) east of Nurdagi, in Turkey's Gaziantep province, at a depth of 24.1 kilometres (14.9 miles), the US Geological Survey said.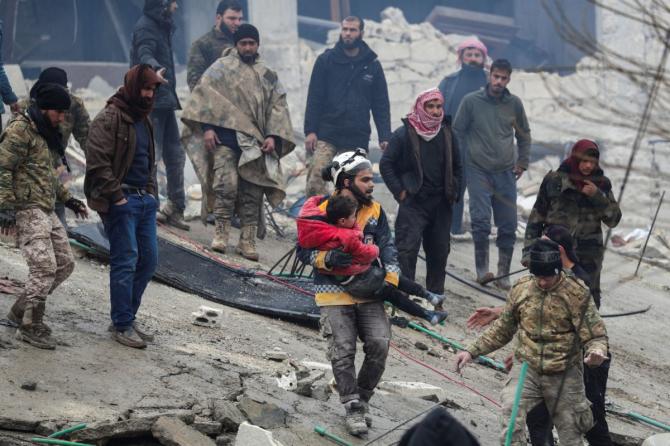 At least 100 aftershocks measuring 4.0 or greater have occurred since the 7.8 magnitude earthquake struck southern Turkey on Monday morning local time, according to the United States Geological Survey.
As the time from the original earthquake extends, the frequency and magnitude of the aftershocks tend to decrease.
However, 5.0 to 6.0-plus aftershocks are still likely to occur and bring a risk of additional damage to structures that are compromised from the original earthquake.
This brings a continued threat to rescue teams and survivors.
Turkish President Recep Tayyip Erdogan announced that Turkey will observe seven days of national mourning after earthquakes hit several southern provinces.
Erdogan in a tweet stated, 'Due to the earthquakes that took place in our country on Feb. 6, a national mourning period was declared for seven days. Our flag will be hoisted at half-mast until sunset on Sunday, Feb. 12, in all our country and foreign representations.'
Erdogan said that Turkey was shaken by the 'biggest disaster' with the earthquake since the 1939 Erzincan earthquake.
Speaking at the Disaster and Emergency Management Presidency (AFAD) office in Ankara, he said that Turkey has taken action with all its institutions and all resources have been mobilized, Anadolu Agency reported.
Meanwhile, Syria's Deputy Minister of Health Ahmed Damiriya said that four truckloads of medicines and surgical and emergency supplies were sent to Aleppo, Lattakia, and Hama in addition to sending medical convoys, 28 ambulances, and seven mobile clinics to Aleppo and Lattakia, as per the SANA report.
Syria has requested United Nations member states, the General Secretariat of the Organization, its agencies and funds, the International Committee of the Red Cross, and international organisations to help and support the efforts made by the Syrian government in facing the repercussions of the devastating earthquake.