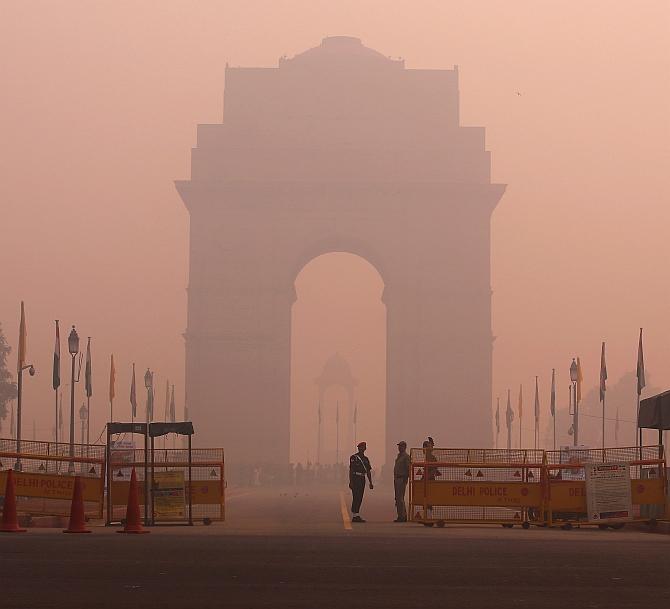 The air quality in Delhi remained poor Sunday with drop in wind speed even as authorities predicted further fall in air quality index of the national capital in the coming days.
The overall air quality index recorded at 10 am on Sunday stood at 208 which falls in the poor category, according to Centre-run System of Air Quality and Weather Forecasting and Research.
On Saturday, the AQI of the national capital stood at 300.
According to the Central Pollution Control Board website, Anand Vihar recorded an Air Quality Index of 261, DTU registered AQI of 207, ITO recorded AQI of 204 while Jahangirpuri recorded an AQI of 300, just one point below the very poor level.
An AQI between 0-50 is considered 'good', 51-100 'satisfactory', 101-200 'moderate', 201-300 'poor', 301-400 'very poor', and 401-500 'severe'.
The PM10 level (presence of particles with diameter less than 10 micrometres) in Delhi stood at 183 and the PM2.5 level was recorded at 93, according to the data.
Authorities have predicted further deterioration of air quality in the coming days.
A slew of measures are being taken by the CPCB to fight pollution during the upcoming winter season, when the air quality in Delhi is generally the worst.
Meanwhile, recent satellite images from the NASA have showed that farmers in Punjab and Haryana have started burning crop residue earlier this month.
The NASA, on its official website, stated that burning crop residue in Punjab and Haryana has increased significantly over the past 10 days in and near Amritsar, Ambala, Karnal, Sirsa and Hisar.
Burning of paddy straw every year during October and November and wheat straw during April in Punjab and Haryana are the major contributors of air pollution in Delhi-NCR, as the smoke travels towards the national capital.
In Delhi, it mixes with fog and creates a toxic smoggy winter every year.
An emergency action plan will be implemented from Monday to combat air pollution that includes restrictions based on the air quality of the city, the CPCB said.
Under the emergency plan called Graded Response Action Plan, stringent actions are implemented based on the air quality of the city.
If the air quality lies in moderate to poor category- measures like stopping garbage burning in landfills and other places, and enforcing all pollution control regulations in brick kilns and industries would be implemented, an official official said.
If the air quality falls in the very poor category, additional measures of stopping use of diesel generator sets, enhancing parking fees 3-4 times and increasing frequency of metro and buses would be implemented, he added.
If the air quality falls in the severe category, additional measures would be implemented of increasing frequency of mechanised cleaning of roads, sprinkling of water on roads and identifying road stretches with high dust generation.
If the air quality falls to severe plus emergency category, then measures like stopping entry of trucks into Delhi (except essential commodities), stopping construction activities and appointment of task force to take decision on any additional steps, including shutting of schools, are implemented.
The measures depending upon the air quality will be implemented from Monday.