Delhi's air quality was at the season's worst on Tuesday as a combined effect of smoke from stubble burning and moisture turned the city into a "gas chamber" leaving people gasping and prompting authorities to announce closure of primary schools and a four-fold hike in parking fees among a series of sweeping measures.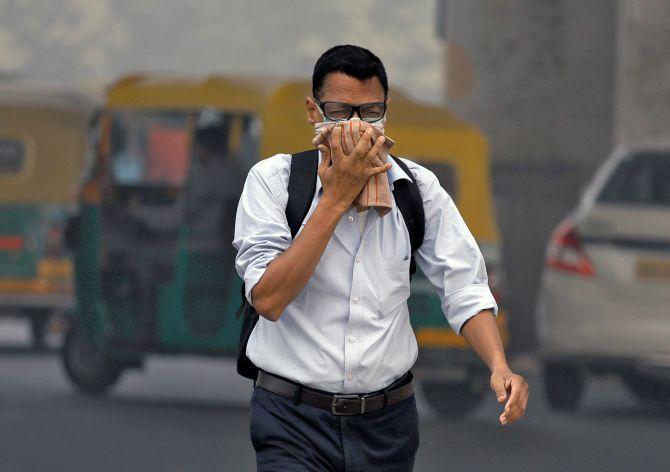 IMAGE: A man covers his face as he walks to work, in Delhi. Photograph: Saumya Khandelwal/Reuters
As a thick blanket of haze hung low over the city, visibility levels plunged, affecting flight and train operations. It permeated living rooms and even the underground metro stations in the city making it difficult to breathe, turning eyes watery and producing burning sensation.
The Indian Medical Association said the capital was witnessing a "public health emergency" and appealed to the government to stop outdoor sports and other such activities in schools to protect the health of children.
The Delhi government also issued a health advisory for high risk people, including children, the elderly, pregnant women and those suffering from asthma and heart ailments.
In the evening, Deputy Chief Minister Manish Sisodia announced that primary schools in the national capital will remain closed on Wednesday.
The Supreme Court-mandated Environment Pollution (Prevention and Control) Authority, empowered to enforce the Graded Response Action Plan to contain emergency levels of pollution, announced that all measures under the plan's severe category will be implemented across the region till further notice.
It also directed the states in the region to start preparing for implementing measures like 'odd-even' in light of the "crisis situation".
Poor visibility hampered flight operations, leading to delays in schedule of over 300 flights by up to two hours as only one of the three runways could be used while around 25 Delhi-bound trains were delayed.
With a score of 448 in a scale of 500, the air quality index was in the 'severe' category for the second time this year. However, when Diwali fireworks had triggered high pollution October 20, the AQI index was had a lower reading at 403.
The Union ministry of earth sciences' agency System of Air Quality and Weather Forecasting And Research recorded 24-hour rolling averages of PM 2.5 and PM 10 at a staggering 406 and 645 micrograms per cubic metre, way above the permissible limits of 60 and 100.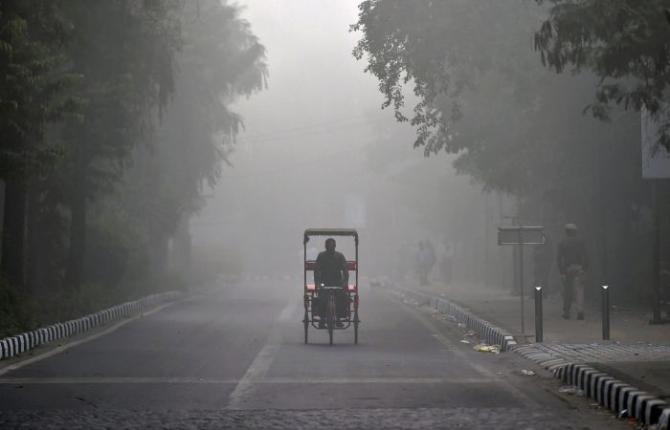 IMAGE: Morning fog in New Delhi on Tuesday. Photograph: Kamal Kishore/PTI Photo
The real time monitors of the Delhi Pollution Control Committee, many of which stopped working as concentration of pollutants went through the roof, recorded PM10 over 10 times the permissible limit at several spots.
The National Green Tribunal took the governments of Delhi, Uttar Pradesh, Punjab and Haryana to task, seeking to know why steps to prevent steps were not taken despite knowing well in advance that such a situation was likely to arise.
Chief Minister Arvind Kejriwal tweeted: "Delhi has become a gas chamber. Every year this happens during this part of year. We have to find a solution to crop burning in adjoining states."
CPCB member secretary A Sudhakar said the intensity of pollution peaked since last night as moisture-heavy winds from Uttar Pradesh and hot winds carrying emissions from stubble burning from Punjab and Haryana dealt a double-whammy.
"There is a little smog. We are not expecting a dramatic change in the next two-three days. Shallow fog and a complete absence of wind are preventing the dissipation of pollutants at the ground level," Sudhakar said.
The wind speed is currently around 3 metres per second, Sudhakar said, explaining it is inadequate to disperse particulate matter like PM2.5 and PM10.
CPCB air laboratory chief Dipankar Saha said the haze cannot be called smog as Delhi's air does not have the presence of gaseous pollutants such as SOx or NO2 (suplur oxides or nitrogen dioxides) beyond safe limits.
"Yes, the air is definitely hazardous and at the season's worst. Suspended particulate matter such as PM2.5 and PM10 can enter the respiratory system. But it cannot be termed as smog," Saha said.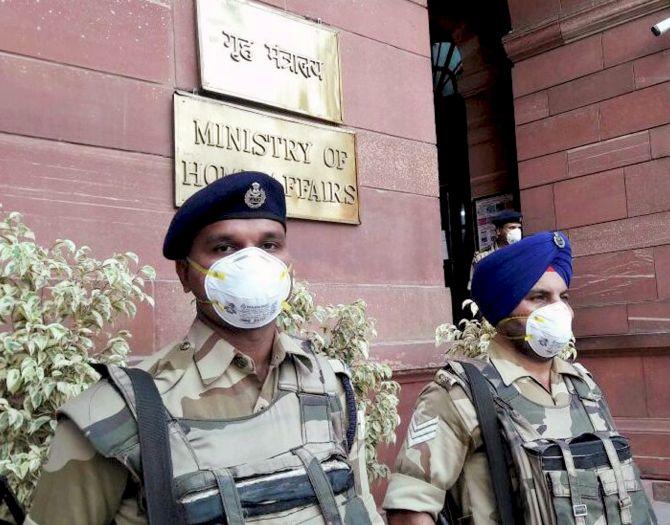 IMAGE: CISF jawans wear anti-pollution masks on duty, in New Delhi. Photograph: PTI Photo
EPCA chairman Bhure Lal and member Sunita Narain directed the municipal bodies in the region to immediately enhance parking fees by four times and instructed the Delhi Metro to lower fares during off-peak hours for at least 10 days, introduce more coaches and ensure frequent services.
Among other measures, the EPCA instructed Delhi and neighbouring states -- Uttar Pradesh, Rajasthan and Haryana -- to strengthen the public transport system by introducing more buses and said a fine of Rs 50,000 would be imposed on road construction agencies violating dust pollution norms.
The body asked the Delhi-NCR governments to start preparing for measures like odd-even and a complete ban on construction activities if pollution aggravates.
The measures also include complete closure of brick kilns, hot mix plants and stone crushers across the region till further notice and a ban on entry of goods vehicles - not destined for Delhi for the next 20 days - in the city.
The EPCA's directions put authorities including the DMRC and the civic bodies in a spot, but Narain said that the law is clear that the Supreme Court-appointed body's orders are binding.
The decisions have been conveyed to the chief secretaries of the states who will in turn ensure their implementation, she said.
It was the environment ministry which had empowered the EPCA through a gazette notification to enforce the GRAP to combat air pollution in the Delhi-NCR region in January.
Meanwhile, the Central Industrial Security Force ordered issuance of over 9,000 face masks for its personnel deployed to guard the IGI Airport, the Delhi Metro and other government ministries and installations.