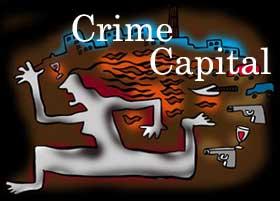 The Delhi police made several arrests of key members of banned Indian Mujahideen this year including its chief Tehseen Akhtar but faced major law and order challenges with Trilokpuri riots and a 100 per cent spurt in crime graph in the national capital.
Women security, which has been the Achilles' heel of the force since the brutal gangrape of a physiotherapy student in 2012, was again in the spotlight when a 27-year-old financial executive was allegedly raped by a Uber cab driver inside his taxi on December 5.
However, unlike last time, police was praised for a prompt action in the case.
The case of Sunanda Pushkar, wife of former Union minister Shashi Tharoor who was found dead at a 5-star hotel on January 17 remains the biggest mystery of the year with conspiracy theories flying thick and fast but no concrete development taking place in the probe.
The anti-terror unit of the Delhi police, special cell, tasted major success this year as it managed to neutralise the top leadership of banned terror group Indian Mujahideen. Its
Indian operations chief Akhtar alias Monu was arrested by the unit from Indo-Nepal border on March 25.
His arrest had come days after another top IM operative Zia Ur Rehman alias Waqas was nabbed from Ajmer in Rajasthan along with three of his associates.
On September 6, Special Cell nabbed another operative Ajaz Sheikh, who allegedly provided logistical support during IM strikes and sent anonymous mails after them from outside Saharanpur Railway Station in western Uttar Pradesh.
The year, however, several communal flare ups in the national capital with the one that took place on Diwali night in East Delhi's Trilokpuri area escalating into a major law and order situation leaving at least 70 injured including 56 police personnel.
The police had to impose prohibitory orders in the area and it took nearly a fortnight for things to normalise. The police used drones to patrol the streets of the riot-hit zone which remained highly successful.
Tensions also escalated in Outer Delhi's Bawana around Muharram over route of the procession after a mahapanchayat objected to it. The festival was then celebrated under heavy police presence in subdued manner.
The year saw a steep rise in the cases of attacks on policemen. Till December 15, more than 300 such cases were reported including one in which an assistant commissioner of police was attacked and brutally beaten up in a case of road rage in south Delhi on October 17.
Seven policemen lost their lives and 17 were seriously injured till December 15 while two cops were killed and 13 were injured in the entire 2013.