The resurrection of AAP post the general election fiasco has a lot of similarity with BJP's revival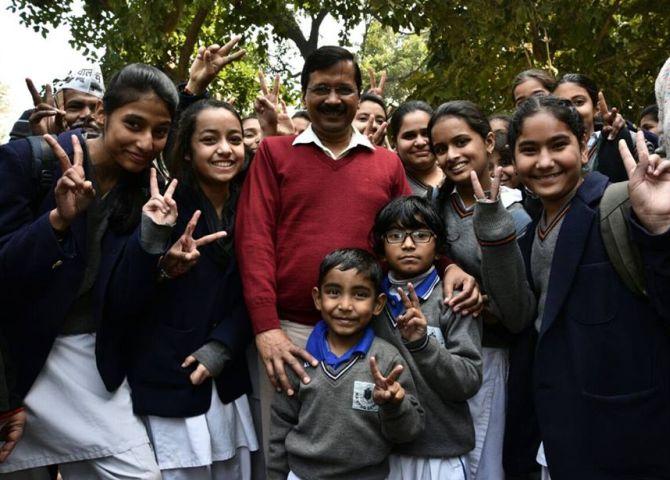 AAP chief is all smiles as he poses with young children while out on his campaign trail. Photograph: AAP/Facebook
The Bharatiya Janata Party of today looks purposeful, confident, and overall enjoys the support of a large section of society. However, hop onto a time machine, rewind the clock two years and you'll see a party in disarray, struggling to find a leader and in the process witnessing widespread infighting.
Compare this to the Aam Aadmi Party. They had a remarkable debut in the last Delhi elections. But post that Arvind Kejriwal and his roundtable overplayed their hand and fell flat on their face in the general elections. What's more, they lost both face and trust. But if you look closer, there are eerie similarities between its remarkable resurgence in the past six months and the BJP's revival.
Promise of good governance: When Prime Minister Narendra Modi started his campaign, the nation was really frustrated. Scam after scam had surfaced and the Congress leadership was at its weakest since the days of Sitaram Kesri. Modi, though controversial, had been chief minister of a prosperous state and was widely acknowledged an efficient leader. Compare this to Kejriwal's main appeal. A promise of a corruption-free capital which will enable free X,Y,Z.
Moving ahead sans old lieutenants: Modi rode solo. Yes, he had a battery of support staff marshaled by Amit Shah but all the old warhorses like L K Advani, M M Joshi and to an extent Sushma Swaraj were sidelined, many of them because they refused to believe that a solo campaign would be a better electoral strategy.
The AAP has also seen similar party heavyweights either leave or voice dissent. Shazia Ilmi, Madhu Bhaduri, Shanti Bhushan and Captain Gopinath are the prominent names. However, if the latest surveys are to be believed this has not deterred the party and they are set to come back to power on their own, led by Arvind Kejriwal.
Consistent and innovative campaigning: If AAP's strategy during the general elections was a disaster, their revival plan needs to be praised. They went quiet after the elections for a while and this probably led their opponents believe that that the party was finished. Then they slowly started making their presence again felt by effectively using social media. In fact their #MufflerMan on Twitter trended in the first position for almost three weeks. The serious campaigning started post that.
Modi's campaign had shades of similarity. The infighting was quelled. Social media was used smartly to garner a wave of support and by the time Modi began to campaign in full force he was already the favourite.
Delhi will decide on February 7 and the nation will know who'll rule this ancient city-state for the next five years on February 10. Surveys and polls have got it wrong on earlier occasions but if they are to be believed, Kejriwal is set to get back his beloved CM's bungalow (actually, make that two-apartment home office complex). Kiran Bedi might spring a surprise but one thing is clear: The janta wants a better life. It'll trust you if it sees a glimmer of hope. If you can instill that trust, it doesn't matter if your resume reads '2002' or 'AK49'. Is this right? There are no answers but them who are we to judge? After all, 'Ye public hai, ye sab jaanti hai!'