The Delhi assembly lacks the powers to make laws relating to police, public order and land, says Akshat Kaushal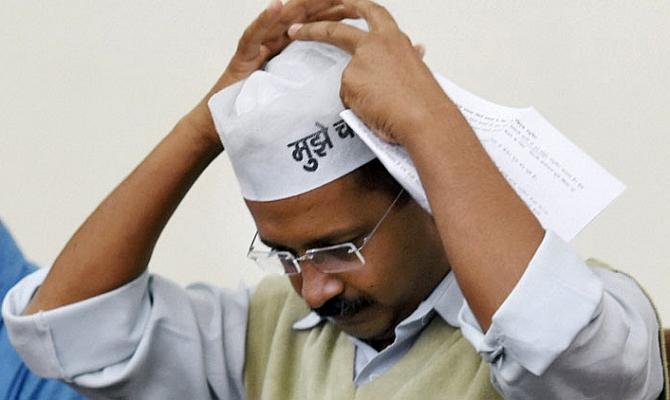 When Arvind Kejriwal had last knocked on Narendra Modi's door -- for an appointment, in Gujarat, before last year's Lok Sabha elections -- the latter had slammed the door on him. Back as chief minister of Delhi, Kejriwal will now hope for a more courteous welcome, especially because he will need Modi's support to be able to fulfil almost all of his manifesto promises.

Modi, now the prime minister of India, realises that, too. He was quick to convey this to Kejriwal.

"Spoke to @ArvindKejriwal & congratulated him on the win. Assured him Centre's complete support in the development of Delhi," Modi said on microblogging site Twitter after it became clear on Tuesday that the Aam Aadmi Party, under Kejriwal, was coming to power in Delhi.

Unlike those of other states, the chief minister of Delhi enjoys limited powers.

According to the 69th amendment to the Constitution, the Delhi assembly lacks the powers to make laws relating to police, public order and land.

The problem is compounded by the presence of three municipal bodies -- the New Delhi Municipal Council, the Municipal Corporation of Delhi and the Cantonment Board -- all of which are under control of the central government.

Also, apart from the three restricted entries in the state list, Kejriwal will need the the Centre's cooperation on many subjects that overlap with Centre's powers.

"For 24 years, the constitutional provisions have been violated. There are 57 areas under the Delhi Development Authority (DDA) and about 60 items under MCD where the Delhi government cannot do anything without the Union government's approval. MCD cannot take even simple decisions like increasing the fine for littering on the street; the central government can do so," says Shailaja Chandra, a former chief secretary of
Delhi.
In its 42-page manifesto, Kejriwal's AAP promises, among other things, statehood for Delhi, restructuring of DDA and MCD, and a new Lok Pal Act to strengthen the present Delhi Lok Ayukta. Each of these proposals needs the central government's approval — a fact the party does not mention in the manifesto.
The promise of full statehood requires an amendment to the Constitution through an Act of Parliament. Even the Modi-led central government cannot do this on its own, given that the ruling National Democratic Alliance does not have enough members in the Rajya Sabha.
A
AP's proposal to restructure DDA does not mention that the body is fully under the Union urban development ministry, so the Delhi government has no powers over it. MCD is governed by a legislation passed by Parliament, so only the Centre can make any change to it.
Even the promise of introducing the Jan Lok Pal Bill looks unsustainable, as the Lieutenant-Governor (L-G) of Delhi, Najeeb Jung, had last year refused to give his consent for the Bill, on the grounds that the Delhi Assembly was not competent enough to pass such a legislation. Any money Bill requires the L-G's approval before being introduced in the Assembly. Jung's consent, it is believed, will depend on the Centre's comfort with AAP's Bill.
"The system in Delhi is designed to fail," says Shakti Sinha, until recently a senior bureaucrat in the Delhi government. "It is difficult for even a seasoned bureaucrat to be sure where the central government's powers end and where the state government's begin."
Even the rather innocuous-looking promise of opening 500 new schools and 20 new colleges needs the Centre's support, as land in Delhi is a Union government subject.
The AAP manifesto, released on January 31, says "proceedings of court cases will be video-recorded and made available to the public".
The manifesto, however, seems to have missed the January 3 judgment of a three-judge Supreme Court bench that made it clear no court proceedings would be video-recorded.