Facing an AAP whitewash, all three leaders need to re-examine their approaches to politics and elections, says Aditi Phadnis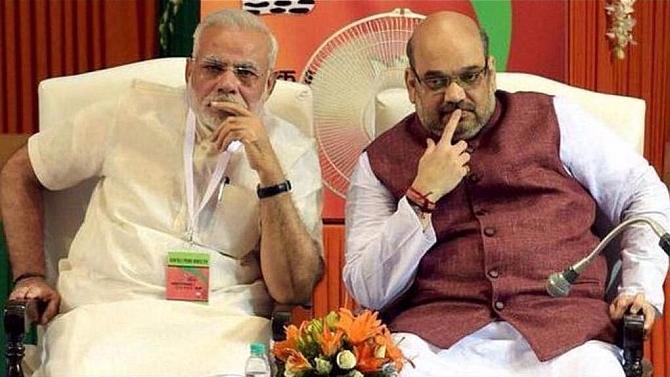 The Aam Aadmi Party is heading for a landslide victory in Delhi with 63 seats out of 70! The Bharatiya Janata Party might not even get to double digits! After 15 years in government, the Congress might not get even one!

When a reporter is learning to write for a newspaper, s/he is always taught to avoid exclamation marks like the plague. A reporter's job is to report news, not sensation. But the Delhi election results are nothing short of sensational.

Who are the biggest losers from this election and how will their loss be justified? Here is a short list.

1. Prime Minister Narendra Modi: In his rallies in Delhi, Modi had said all those who were predicting the AAP's victory were 'bazaaru' (up for sale).

And now?

True, the Delhi result is no referendum on the central government's performance. It is just another state election. But, and that's an uppercase BUT, it has to read with a trend.

In Maharashtra and Jharkhand, the BJP was
not able to get full majority.
In the Rajasthan local elections two days ago, the Congress and BJP were almost neck-and-neck even after the BJP's spectacular performance both in the assembly and Lok Sabha elections.
In the bye-elections last year, the BJP lost miserably.
All this despite Modi's supposed hold on young people, the dreams he sold, the promises he made in the rallies that were held here
(although to be honest, the promises were not that many -- on which more later)
.
There are many in the BJP who are secretly saying that this is not at all a bad thing for the BJP. Does this mean Narendra Modi is over? Not at all.
2. BJP President Amit Shah:
As the strategist and party president, Shah had exhorted BJP workers to stop lazing about and come out to work for the party. Clearly, the appeal has not worked. Nor has the strategy.
The BJP has never done so badly in Delhi, ever. Shah has to figure out why.
Two rounds of elections that will follow are in Bihar (October) and Uttar Pradesh (2017). Shah will have to micromanage those elections. Clearly, creating communal tension does not pay.
We were told that as part of election management, the Rashtriya Swayamsevak Sangh (RSS) had put its full might behind the elections. Really? If this is all it can come up with ...
3. Rahul Gandhi:
No seat? Enough said.