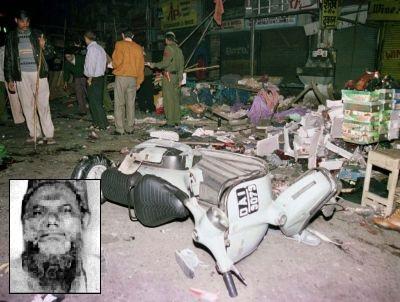 The Delhi Police have finally managed to get their man -- Abdul Karim Tunda, the answer to several questions regarding the Lashkar-e-Tayiba network in India, reports Vicky Nanjappa.
Tunda, one of India's most wanted terrorist, was picked up off the Indo-Nepal border on Saturday by the Delhi police and the interrogation of the man had commenced.
The Delhi police may have got this man very late, but they still consider it to be a big catch. Tunda, in his late sixties, was not an active operations man for the past five years, but was more into motivation, and his recent assignment was to brainwash Rohingya Muslims.
Delhi police sources say that Tunda, who started off as a bomb maker in the Lashkar-e-Tayiba, graduated to a very high level in the ranks over the years. While for a considerable amount of time he was imparting knowledge about bomb-making to younger cadres, later he was told to motivate the youth.
The Delhi police suspect that this man wanted in several serial blasts including the 1996 Modinagar blast was in touch with some Indian Mujahideen operatives too.
It is said that he had taught a bunch of youth who slipped into Pakistan now to prepare bombs. Tunda was a bomb maker during the RDX days, but over a period of time he felt that it was easier to use ammonium nitrate due to its easy availability.
Tunda, according to Intelligence Bureau officials, was trying to slip into India when he was caught at the Nepal border. He was trying to reach his home in Uttar Pradesh. There is no trace of his family in UP except his brother Abdul Malik who works as a carpenter. Tunda too was a carpenter until he decided to join the Lashkar at the age of 40.
Tunda, according to the Delhi police sources, was part of a module that was involved in helping the Rohingya Muslims. Lashkar-e-Tayiba chief Hafiz Saeed chief of the Lashkar had declared that they would go out of their way to fight the cause of the Rohingya Muslims. A lot of illegal migrations of the Rohingya Muslims was taking place. One cadre comprising 80 youth had slipped into Pakistan and Tunda was part of that module which motivated them, police sources say.
Delhi police officials say that a 30-year terror stint has ended and "having this man in our custody will only lead to a pile of information".
His role in motivating the Rohingya Muslims and the Indian Mujahideen cadres will be questioned. Further the police would like to know which local module of the Lashkar drives the Indian Mujahideen. Tunda will have all these answers, sources in the police pointed out.
The search for Tunda cooled off briefly in 2000 when agencies from Bangladesh stated that he had been killed in a blast over there. However, Indian agencies soon realised that this news was diversionary in nature and they once again commenced their search operations.
In 2005, Masood Razak, an aide of Tunda, told the Delhi Police that Tunda was last seen in Lahore. A year later news of him being arrested by the Kenya police surfaced. After making inquiries the Indian agencies termed the news as fake.
According to Indian intelligence agencies Tunda had shuttled between Lahore and the United Arab Emirates a couple of times. However, they believe that he was trying to get back to India and hence could have reached the Nepal border.
Intelligence reports on his movements were being shared with the Delhi police who kept a close watch on him.
His role in the 26/11 attacks in Mumbai will also be probed. "Although Tunda's name had not figured prominently in the 26/11 attack, he could have some information which could give us more inputs," a Delhi police official told Rediff.com.
Hailing from the Pilkhuwa region in Uttar Pradesh, Tunda ran a homeopathic business in the early '80s.
He, however, came in touch with some terror elements from the Lashkar and from that moment onwards he took to the dreaded path. Trained under the guidance of Pakistani Inter Services Intelligence, he became a key player and also the bomb maker for the Lashkar's India operations.
Image: One of the sites of the serial blasts that rocked New Delhi in 1997 (Inset) Abdul Karim Tunda
Photograph: Reuters