Delhi's education minister Atishi moved the high court here on Tuesday seeking a direction to the Centre to decide on granting the requisite clearances to enable her to visit the United Kingdom for an official visit next week.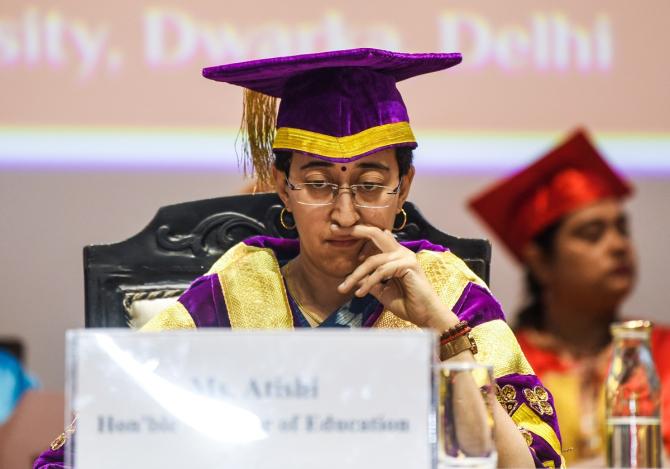 The petition, which is likely to come up for hearing in the Delhi high court on Wednesday, said the Aam Aadmi Party leader has been invited in her official capacity by Cambridge University to speak at a conference on India at 100:Towards Becoming a Global Leader to be held on June 15.
The proposed visit, Atishi's petition said, is significant for Delhi's governance as it will allow the city government to "showcase the leaps" made in areas of education, health, and urban development.
Any further delay in granting clearance to the visit would render the purpose infructuous, it said.
The petition -- filed through lawyers Hrishika Jain, Aman Naqvi and Bharat Gupta -- has argued that restricting the petitioner's right to travel abroad on a discretionary basis impinges on her personal liberty.
It also contended that requiring constitutional functionaries and ministers in state government to seek the Centre's "political clearance" for travelling abroad violates the dignity and independence of a constitutional office.
The plea stated while the Delhi government accorded administrative clearance for travel last month, the central government "has only been responding" with queries and clarification after the Lieutenant-Governor forwarded the proposal to it, thus delaying the whole process, including applying for a visa.
"The proposal was forwarded to the central government authorities for processing of further clearance. It has been more than 10 days now, and no clearance has yet been issued to her.
"In the present matter, the respondents' non-decision on the matter till 06.06.2023, has left only eight days for all further formalities and visa approval, serving in effect as an arbitrary non-decision of the proposed visit," the plea said.
The petition claimed that the petitioner has arranged multiple visits to primary schools in the UK to "ensure that Delhi's children gain from best practices in primary school education abroad" and that the trip would be "crucial for a for exchanging ideas on improving urban governance and showcasing Delhi's own progress in urban design".
It further contended that delay in granting travel clearances violates the right to privacy.