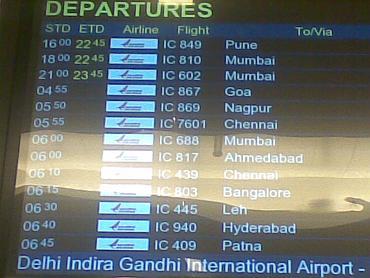 Union Railway Minister Mamata Banerjee and five other Members of Parliament were on Thursday among thousands of passengers who had a harrowing time at the swanky Terminal 3 of the Indira Gandhi Interanational Airport in New Delhi on a day Air India shifted its entire domestic operations to the new venue.

Banerjee along with three Trinamool MPs and a Left MP were to take AI flight IC-264 to Kolkata which was scheduled to depart at 1700 hrs. The flight got delayed by two hours since there was no sign of the crew, an airport official said. The flight finally took off around 1900 hrs.

Air India shifted its entire domestic operations to Terminal 3 of the IGI Airport but delayed flights, long wait for baggage, missing crew and confusion for passengers marred the first day. The crewmembers got stuck in the traffic near Mahipalpur on National Highway-8 en-route T3. Since no other set of crew was available, the flight could only be operated after they arrived, the official said.

The flight of former minister of state for external affairs Shashi Tharoor also got delayed by over two hours due to shortage of cabin crew. Tharoor, along with his wife Sunanda, had boarded AI flight IC-465 to Thiruvanathapuram via Kochi. But the flight, which was scheduled to depart at 1730 hrs, could only take-off after two hours delay at around 1930 hrs with another set of crew.

Earlier, Tharoor and some MPs from Kerala had met Union civil aviation minister Praful Patel and Air India chairman and managing director Arvind Jadhav and expressed their concerns over the cancellations and delays of the flights.

Rediff.com spoke to a flier stranded at the airport, who said that flights were delayed for more than six hours at a stretch. He narrated a tale of neglect and mismanagement at the T3 terminal. An impending strike by Air India crew also added to the fliers' anxiety.  
Air India shifted its domestic operations from T1A to T3 from midnight on Wednesday. The first domestic flight to depart from T3 was IC 867 to Goa, which was pushed back from the aerobridge on schedule at 0455 hours.

The first domestic flight to arrive at T3 was IC 601 from Mumbai at 0755 am. The airlines managed to handle the flight operations smoothly during the initial hours, but as the day progressed, the flights were delayed.

About 6,300 passengers had booked tickets to fly out of Delhi to various domestic destinations on 45 flights. Passengers complained that they had to wait for about half an hour to deplane after landing as airport staff were facing problems in docking the aerobridge with the aircraft.

Flyers also complained about the long wait for getting their baggage. There were also reports of problems in computers at the check-in counters for Kochi, Bhopaland Patna-bound flights due to which long queues were seen.

"These are initial teething troubles and everything will be be sorted out soon for smooth passage," an airline official said. 

Image: The board at the departure lounge in Terminal 3 at Delhi airport, which shows the delayed Air India flights.

Photograph:  Courtesy Anil Menghani