The first of six French-designed Scorpene submarines which are being manufactured in Mumbai, was launched into the water on Monday, initiating the process for extensive sea trials.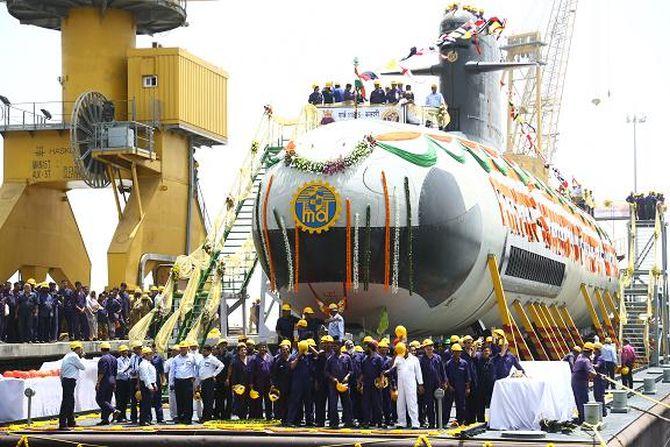 The diesel-electric submarines are being built at the state-run Mazgaon docks in Mumbai; they are expected to be inducted into the Navy by 2018, about four years later than planned.
The project has also overshot the budget by nearly Rs 5,000 crore and is expected to cost about Rs 23,000 crore.
"One (Scorpene) submarine will be delivered every nine months," said Defence Minister Manohar Parrikar.
According to a senior submariner, the event assumes significance since this will be the first time the submarine will be entering water -- albeit with the help of a pontoon -- which signifies that its hull is complete and critical equipment is in place.
"While the launch would be a more significant event, the floating out of Scorpene will commence its sea trials and more importantly, clear the dry dock that it presently occupies for the construction of the next one," the official said.
The Indian Navy at present operates only 14 conventional diesel-electric submarines. Ten of them are ageing Russian Kilo class and four are German HDW class submarines.
The government is planning on getting 30 submarines before 2022, but some of the projects have been delayed.
The original delivery schedule for the first submarine was December 2012 and remaining submarines were to be delivered at intervals of one year each.
The Scorpene project, also called Project 75, remains one of the most embarrassingly delayed defence projects ever since it was signed with the French in 2005.
According to MDL officials, the vessels would still be "insufficient" to meet India's underwater capabilities by the time all of them reach the Indian Navy by 2020.
This is primarily because the first four of the boats would be without the crucial air independent propulsion, thus qualifying them as regular "diesel-electric" -- a system which has been discontinued by most international navies.
An AIP allows a submarine to remain submerged for weeks on end without the need to surface to recharge its batteries or sending up a "snorkelling pipe" which could give away its position.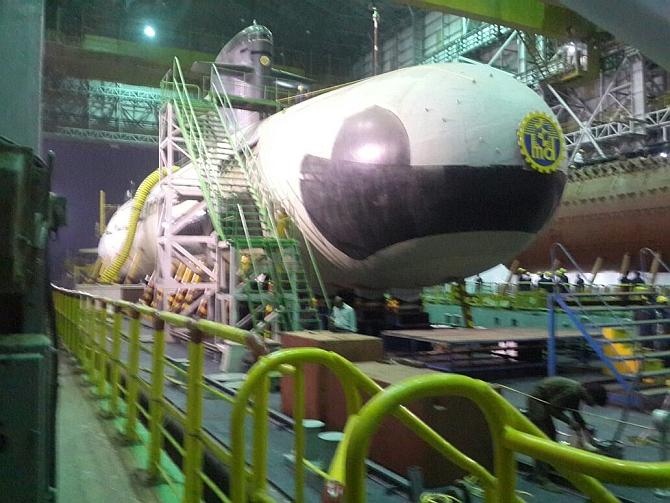 Understanding the Scorpene
Displacing 1,700 tonnes, it is 219 feet long and has a speed of over 20 knots. It can remain at sea for about 50 days with a crew of 31, and can dive to a depth of more than a thousand feet.
According to Indefence.com, among its performance characteristics what is 'outstanding is the maximum operating depth (without limit to he number of cycles) greater than 300 metres, maximum submerge speed of more than 20 knots, submerged range at 100 percent battery usage and speed of four knots for 134 hours/536 miles.
The Scorpene was carefully conceived bearing habitation in mind. Its complement of 31 with the possibility of quartering six more in stowed berths. It has one cabin for the captain, one for 5/6 officers, two for 5/6 petty officers, and one for 15 ordinary seamen. It has individual berths and lockers for everyone, two toilets, two showers, four washbasins, and three messes.
The quarters are acoustically insulated from the platform on elastic insulators and there is air-conditioning in all quarters and operations areas.
Photographs: First Photo Courtesy Defence Ministry
Second & Third Courtesy: Saisuresh Sivaswamy/Rediff.com