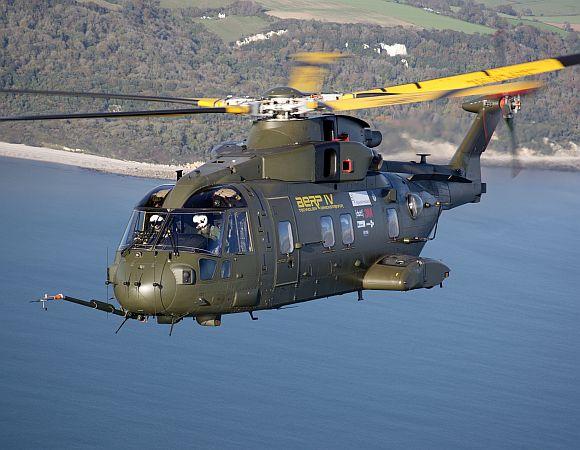 Italian prosecutors have "shelved" proceedings against defence major Finmeccannica, the parent firm of AgustaWestland, saying it had nothing to do with the alleged corruption in India's Rs 3,600-crore deal to procure 12 VVIP helicopters, Italian news agency Ansa reported.
India scrapped the deal on January 1 on the basis of alleged breach of pre-contract integrity pact and alleged payment of kickbacks to Indian agents by the firm to secure the contract.
Prosecutors in the northern Italian city of Busto Arsizio have shelved proceedings against Finmeccanica for alleged corruption in the sale to the Indian government of 12 AW-101 helicopters made by its AgustaWestland subsidiary, Ansa said in its report.
Prosecutors have stated that Finmeccanica has nothing to do with the offence, the company said in a statement issued in Italy.
The Italian firm said its two subsidiary companies have agreed to pay a fine in the contract but not admitted to any wrongdoing.
"AgustaWestland SpA and its UK subsidiary AgustaWestland Ltd, together with the prosecutor, they decided to ask for the application of administrative pecuniary sanctions of limited extent against it, also confirming the effectiveness of their control systems and the substantial strangeness towards the facts alleged by the prosecution of corruption assumed. It remains therefore excluded any admission of wrongdoing on the part of both companies," the firm said.

Finmeccannica said the "two companies have taken this decision (to pay fine) on the basis of the radical reorganisation of the Finmeccanica group, based on the desire to focus on the business activities and take full advantage of the potential of the market."
Italian government is the largest shareholder of Finmeccannica with 30 per cent stake.

The Italian prosecutors earlier this month had sought that former Finmeccanica CEO Giuseppe Orsi be sentenced to six years and former AgustaWestland CEO Bruno Spagnolini get five years in prison for allegedly paying the bribes.

Indian government has already encashed bank guarantees of the Anglo-Italian firm worth around Rs 2,200 crore deposited in banks of Italy and India.
Orsi has denied any wrongdoing, telling a preliminary investigations judge that all his actions were "motivated by the exclusive interest of Finmeccanica and all its subsidiaries".
He also denied knowing the family of former IAF chief S P Tyagi. Prosecutors alleged that members of Tyagi's family received bribes paid by Finmeccanica to secure the contract for 12 VVIP choppers for the IAF.

The Indian government has put all dealings with the Anglo-Italian firm on hold and had even sought the opinion of the Law Ministry to initiate proceedings of blacklisting the firm.

India had also agreed for the arbitration proceedings initiated by the Anglo-Italian firm.