Lyvita Gomes, 52, died on January 3 in Chicago after going on a hunger strike for 15 days to protest her arrest.
In a three-part series, Rediff.com's George Joseph finds out what went wrong for the Mumbai native in the country she migrated to.
Part I: 'Nobody deserves this fate'
In this segment, George Joseph traces the events leading to her unfortunate death.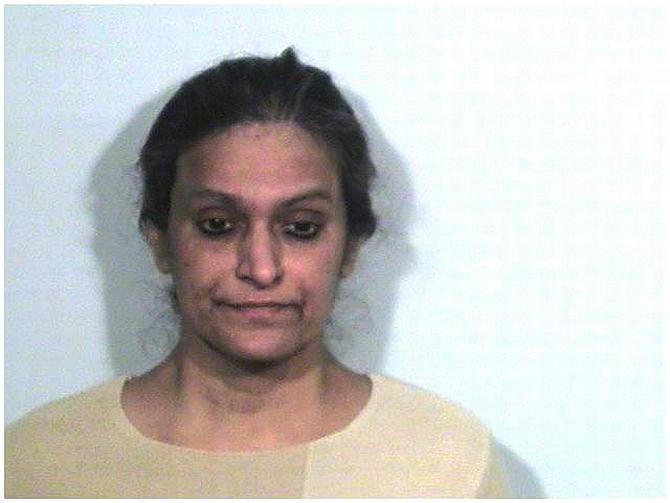 When the funeral home workers cleaned the room where Lyvita Gomes lived, they found stacks of mail, most of them unopened, some going back seven years.
The jury summons that changed her life forever was in the mail too. She might not have opened it and did not reply to it; she was not eligible for jury duty, being a non-citizen.
It resulted in an arrest warrant and a sequence of events ultimately resulting in her death.
The Sheriff's Office defended the care she received in jail, saying it relied on its medical staff's advice and did the best it could in a bad situation.
Jail officials could have sought a court order to force-feed Gomes, but she appeared stable, Chief Wayne Hunter, the sheriff's head of administration and acting chief of jail operations, told the Chicago Tribune newspaper.
'We have a very competent medical staff. I'm not in a position to second guess what they say,' Hunter was quoted as saying in the newspaper.
After Lyvita Gomes was laid off from Delta Airlines, she moved to Illinois and got a driver's licence legally. Because of the licence her name appeared in the jury pool and she was asked to report for jury duty last July 5. She did not respond.
A judge ordered her to appear before the court to explain her absence.
She didn't show up for that too. On October 12, 2011, a police officer went to the Vernon Hills hotel where she lived to arrest her.
Gomes said she had straightened out the matter by phone, according to a sheriff's report. But the warrant was still active, so the deputy told Gomes she was under arrest.
She refused to put her hands behind her.
She was charged with a misdemeanour for resisting arrest. After she spent two days in jail, officials found her visa had expired. The Immigration and Customs Enforcement got involved and commenced deportation proceedings against her.
Then the ICE released her. Though the jury duty case was dropped, the case for resisting arrest remained. She did not appear in court twice and once again a judge ordered her arrest.
On December 14, 2011 the Vernon Hills police arrested her.
At the initial mental health screening, she was referred to a psychiatrist. She refused to take medication.
Greg Ticsay, a county public defender who was appointed for Gomes by the court, said Gomes apparently thought she was in court for tennis lessons, a delusion that prompted his office to seek a hearing on her mental fitness.
He met her on December 19, 2011, days after she had stopped eating. The attorney did not know that.
Hunter said Gomes refused food and water from her first day in jail, but declined to give a reason. On December 21, when she showed signs of weight loss, Gomes was moved to the jail medical unit. Her vital signs were checked every four hours.
Jail officials could not persuade her to eat, Hunter said.
On December 27, the public defender's office was informed about Gomes's refusal to eat. An attorney went to the jail, but failed to persuade Gomes to accept food or water.
The public defender's office then tried to get her hospitalised and worked with the jail to speed up her fitness hearing, which never took place. On December 29, she was transferred to Waukegan's Vista Medical Centre East, where she died five days later.
'The impression we got is that when she got to the hospital, her condition was so grave there was nothing they could do,' Ticsay told the Tribune.
Once she was transferred to the hospital, a judge released her from custody.
Hunter said his staff was shaken by Gomes' death -- the jail's first hunger strike fatality -- but he does not know what they could have done differently.
Image: Lyvita Gomes, seen after her arrest
Part III: 'People from faraway countries came forward with help, while Indian officials kept away'
Also Read: 'Why did Lyvita have to starve to death?'