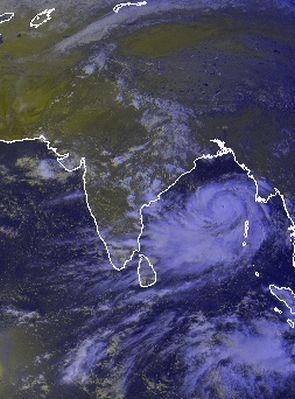 With cyclone Phailin expected to make landfall in Odisha on Saturday, the state government mounted a massive operation to evacuate two lakh people from six coastal districts on Friday night
Cyclone Phailin: What you SHOULD and SHOULD NOT do
The cyclone is 400 km southeast of Gopalpur in Ganjam district where it is expected to make landfall at 6 pm on Saturday and 400 km south-southeast of Paradip, the latest IMD bulletin said.
Officials said clearing, forwarding, loading and unloading operations have been suspended at Paradip port and seven vessels have been shifted to the sea from the dockyard area.
The cyclone is 410 km east south east of Kalingapatnam in Andhra Pradesh, The IMD said.
The wind speed has reached 45-55 kmph and gusting to 65 kmph already along and off the Odisha coast, it said.
"It will increase in intensity with gale wind speed reaching 210-220 kmph along and off coastal districts of south Odisha at the time of landfall," the IMD said.
The sea off the coast would be rough to very rough and would become gradually phenomenal on October 12, it warned.
It said many parts of coastal districts experienced rain, including heavy to very heavy, which would progress to interior areas from October 12 night.
Chief Secretary J K Mohapatra said that two lakh people would be evacuated from six districts.
Nearly a lakh of people have already been evacuated from Ganjam, Puri, Jagatsinghpur and Kendrapara districts, he said.
The state government which has targeted zero casualty this time in the backdrop of 9885 deaths during the 1999 cyclone, has decided to evacuate people much ahead, he said.
He said that the state government does not consider the impending calamity as less than the super cyclone of 1999.
Around three columns or 300 personnel of the army's engineering wing are en route to the state and 12 air force helicopters are ready at the Barrackpore airbase in neighbouring West Bengal, Special Relief Commissioner P K Mohapatra said.
Also 29 marine rescue teams and 30 navy doctors are headed to the state for rescue and relief operation with the Odisha Disaster Rapid Action Force, he said.
When contacted, chief of the cyclone warning division Mrutunjay Mohapatra said, "We do not expect that the system will change direction now. It will in all probability hit some place near Gopalpur.
"The eye of the storm is about 15 kilometer and the size of the entire system is about 500 km. It is moving at a speed of 15 kmph and likely to make landfall near Gopalpur at about 6 pm tomorrow."
He said he would not describe it as a super cyclone at this stage even though the wind speed is expected to be between 210 kmph and 220 kmph during landfall.
He said that the cyclone has reached the upper stage of a very severe cyclonic storm, but not the level of a super cyclone.
Appealing to the people not to panic, Chief Minister Naveen Patnaik, who reviewed the situation in the evening, said, "The state government is fully prepared to face the situation."
The state government has started free kitchens to feed evacuees while leave of all doctors has been cancelled, Health Minister Damodar Rout said.
Local Cautionary Signal Number Three (LC-III) has been hoisted at all ports in Odisha.
"Cyclone Phailin is a very severe cyclone," IMD chief Dr L S Rathore said, but felt the storm is unlikely to develop into a super cyclone. Phailin was named by Thailand and it means sapphire in Thai.
But a US meteorologist warned that Phailin could be worse than Katrina. "Phailin is already worse than what the IMD is forecasting," said Eric Holthaus, meteorologist for Quartz, a US-based online magazine which covers global economy-related issues.
"It has exploded from tropical storm strength to potentially the equivalent of a category 5 hurricane," he was quoted as saying in the Quartz website. Category 5 hurricane is the most powerful. "While strengthening, the storm has grown to nearly half the size of India itself."
Odisha Control Room numbers:
Ganjam 06811-263978; Puri 06752-223237; Kendrapara 06727-232803; Jagatsinghpur 06724-220368; Balasore 06782-262674; Bhadrak 06784-251881; Mayurbhanj 06792-252759; Jajpur 06728-222648; Gajapati 06815-222943; Dhenkanal 06762-221376; Khurda 06755-220002; Keonjhar 06766-255437; Cuttak 0671-2507842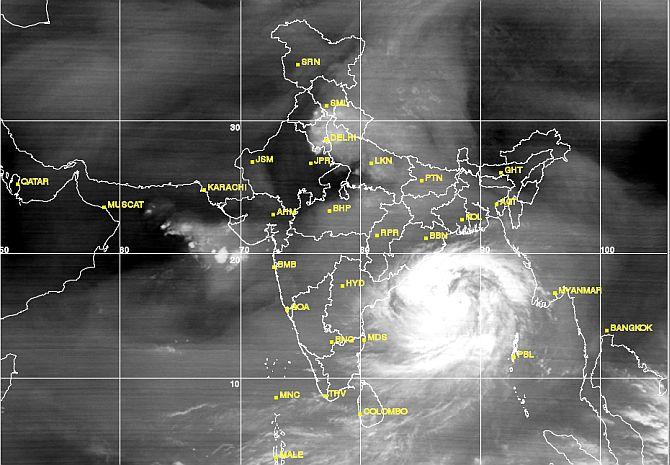 Mohammad Siddique reports from Hyderabad that the Andhra Pradesh government too is gearing up to deal with the impact of the cyclonic storm.
State revenue minister N Raghuveera Reddy told the media after a review meeting with the officials on Friday that Philian was likely to be as severe as the super cyclone of 1996.

"As the three districts of Srikakulam, Vizianagaram and Visakhapatanam will bear the brunt of the cyclone, and heavy to very heavy rains will be there, we have identified the low lying areas and have started the process of evacuating the people to safer places," he said.
An estimated 64,000 people will be evacuated by Friday evening from the three districts to cyclone shelters and other safer places. They include 20,000 from Srikakulam district (adjacent to Odisha), 4,000 form Vijayanagaram and 40,000 from Visakhapatanam.
The district level officials of the revenue department and other concerned departments were already in the field. "I am appealing to the people to fully cooperate in minimizing the losses. We can not stop the cyclone, but we can minimize the damage," he said.
"Cyclones are not new for us. In the last 124 years, the state was hit by cyclones 74 times, 30 of them in October. There is no need for the people to fear. Everything will be taken care of. I appeal to them to follow the government instructions and act accordingly," he added.
Indian Navy and Army were also on the stand by. "We will also use the police communication network as a backup if the civilian communication network fails," the minister said.
Teams of National Disaster Rescue Force have also reached the area.
The Indian Air Force has deployed 24 aircraft including its transport planes such as Ilyushin-76, C-130J Super Hercules and the Antonv-32 along with 18 helicopters.
"The Defence Minister has directed the armed forces to be on high alert and asked them to be ready to move in for relief operations when required," a Defence Ministry official said in Delhi.
The Vishakhapatnam-based Eastern Naval Command has kept multiple Indian Navy diving teams with inflatable rafts in standby mode at important locations which could be put into operations at short notices.
"Besides these, Navy has put some Chetak and UH-3H helicopters in standby for launching rescue and relief operations, if necessary. Disaster relief ships, as required, are also being kept by the Navy in readiness," the official said.
Army has moved its Command and control element to Bhubaneswar under GOC Madhya Bharat (MB) Area. One Engineer column from Bagdogra and one Medical column from Gopalpur have started moving to Bhubneshwar. Infantry columns are also on standby at Barrackpore.