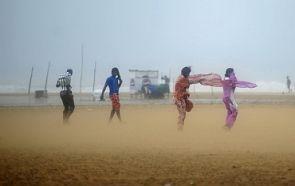 The Centre has assured all help to Odisha and Andhra Pradesh where a "very severe" cyclone is expected to hit on Saturday and sent nearly 500 personnel of National Disaster Response Force for relief and rescue operations.
National Disaster Management Authority vice-chairman M Shashidhar Reddy said they are in regular touch with the state governments and have deployed 23 teams of NDRF with all equipment to assist the local administration and five more teams of NDRF are kept at standby.
"The prime minister is travelling abroad and he has assured that Government of India will offer all help and support to affected state governments," he told reporters.
Reddy said rains have started in parts of Andhra Pradesh and the biggest cyclone in years to hit the east coast, Cyclone Phailin.
"Extra teams of NDRF with man-power and equipment have been deployed. We are ready to provide whatever help the state government asks for. We have also appealed to people to be ready for evacuation in short notice," he said.
Union Home Secretary Anil Goswami chaired a meeting of national executive council of NDMA meeting this evening to coordinate preparedness for cyclone.
"We are better prepared than in Uttarakhand disaster. Windspeed as per latest bulletin is going to be more than initial prediction," Reddy said.
He said 20,000 people in Srikakulam and 40,000 in Vishakapattnam have been evacuated.
Medical team of Union Health Ministry are also getting ready to travel to the two states in short notice.
The other regions which are expected to be affected by the cyclone include North Chhattisgarh, South Jharkhand, Eastern Uttar Pradesh, Bihar and gangetic West Bengal.
"Around 1.2 crore people are expected to be affected by the cyclone," he said.
Reddy said authorities have to gear up to a situation where a lot of damage can be expected, crops, roads, houses are expected to be affected.
ParadipPort today shut all cargo operations, plants and machinery and put in place a contingency plan to meet any eventuality.
The port is one of the 12 major ports in the country.