The two agreements were signed during Palestinian President Mahmoud Abbas's state visit to India in May. Archis Mohan reports.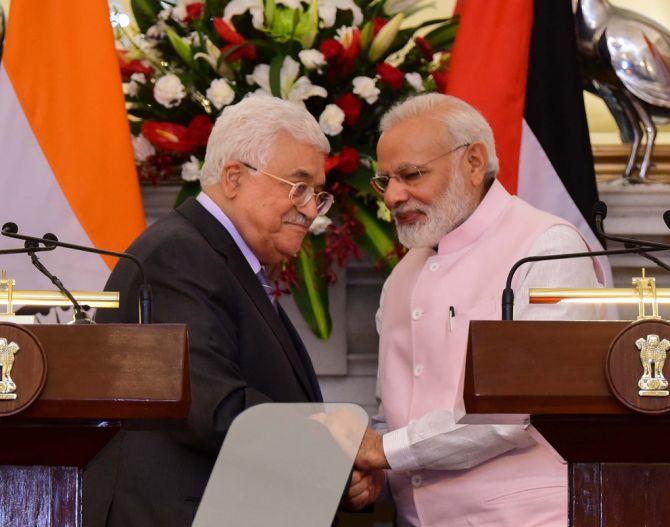 Days after Prime Minister Narendra Modi's visit to Israel, the Union cabinet chaired by him approved on Wednesday the signing of two agreements between India and Palestine on cooperation in the fields of health and medicine, and information technology and electronics.
The two agreements were signed during Palestinian President Mahmoud Abbas's state visit to India in May.
Modi paid a state visit to Israel, the first by an Indian prime minister, from July 4 to 6. He, however, didn't visit Palestine, a decision that has come in for criticism from opposition parties and former diplomats.
In October 2015, President Pranab Mukherjee had visited Israel, the first Indian head of state to do so, as well as Palestine.
On Wednesday, the cabinet note on the two agreements stated: 'India has strong political support to the Palestinian cause at international and bilateral levels. India has been contributing material and technical assistance to the Palestinian people.'
The agreement on health covers capacity-building of health staff, prevention and control of communicable diseases, physiotherapy and rehabilitation, drugs, pharmaceuticals and medical equipment. A working group will be set up to further elaborate the details of cooperation and to oversee the implementation of the agreement.
The agreement on IT and electronics will remain in force for five years. It will be implemented by establishing a working group on IT and electronics comprising representatives of the two parties, an official statement said.
Under the agreement, both countries will look at promoting closer cooperation in e-governance, m-governance, e-public services delivery, cyber security, software technology parks and start-up ecosystem.
'Bilateral cooperation in ICT (information and communications technology) domain in both B2B (business to business) and G2G (government to government) will be enhanced. It envisages improving B2B collaboration leading to employment opportunities,' the statement said.
IMAGE: Prime Minister Narendra Modi with Palestinian President Mahmoud Abbas at Hyderabad House, during the latter's visit to New Delhi in May. Photograph: @MEAphotogallery/Flickr