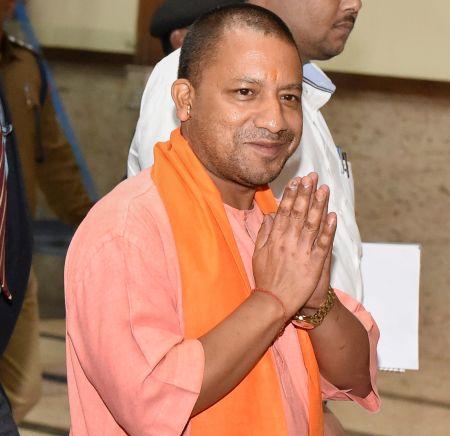 Officials of the Kushinagar district administration allegedly gave soap and shampoo to Dalits and asked them to take a shower before meeting Chief Minister Yogi Adityanath, who was in the district on Friday to inaugurate an immunisation programme for encephalitis.
The CM launched encephalitis vaccination campaign in the state from Mainpur village in Kushinagar.
The officials asked the residents to take a bath before attending a meeting with the CM so that they 'smell good'.
To ensure the instructions were followed, soaps, shampoo and perfumes were distributed among the villagers.
The members of the Mushahar community were called to attend a vaccination program for the eradication of encephalitis, a campaign started by the chief minister in Kushinagar's Kasiya division.
Five children from the community were to be vaccinated under the campaign from the area.
Ahead of the event, local officials distributed the soaps and shampoos to those attending the event, in order to make them 'look clean and smell good'.
Also, roads were paved, toilets were fixed overnight and streets were cleaned up in the village ahead of the CM's visit.
Tearing into Adityanath over the incident, the Congress on Sunday demanded an unconditional apology from the CM and also demanded a case be registered against the officials and the CM.
Addressing the media, Congress spokesperson Abhishek Manu Singhvi said, "The incident has depicted the true face of the Baharatiya Janata Party, the Rashtriya Swayamsevak Sangh and, in particular, of their CM. The true face, thought process, thinking, actions are reflected in the way soaps were distributed to the Dalit community by the officials on the instructions of Yogi Adityanath."
Singhvi asserted that Aditynath directly practiced untouchability in the way in which he gave instructions to the Dalits that they must 'smell good' before their meeting.
"They have insulted the entire community in that village but more importantly they have most importantly insulted the very concept of Dalit in this country," Singhvi said.
"Appropriate case must be registered under the very specific and powerful and wide provisions of ST/ SC act against this brazen and shocking form of untouchability and the CM and the officials must immediately unconditionally, comprehensively apologize to the entire community," he added.
Earlier, the administration in Deoria had received much flak for placing air conditioners, sofas and carpets at the house of a Border Security Force martyr when Adityanath went to his place to give the compensation cheque.