The family of Dadri lynching victim Mohammad Ikhlaq were flown in to Lucknow to meet with Uttar Pradesh Chief Minister Akhilesh Yadav, who announced an ex gratia amount of Rs 45 lakh for the family and promised swift justice against the killers.
Sharat Pradhan reports for Rediff.com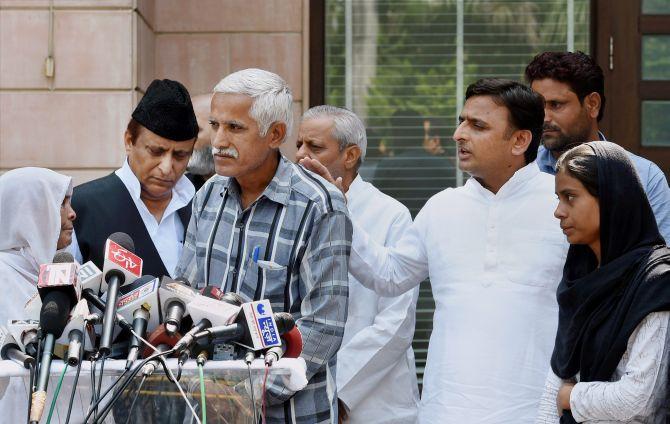 The family of the 50-year-old Mohammad Ikhlaq, who was brutally lynched to death by a Hindu mob over beef-eating rumours in Dadri last week, were flown in to Lucknow for an audience with Uttar Pradesh Chief Minister Akhilesh Yadav at his official residence in Lucknow on Sunday morning.
Too apprehensive to visit the mourning family in their native home of Dadri, where previous chief ministers have avoided going on account of a long standing superstition that it would be a bad omen, Akhilesh decided to meet them in Lucknow instead.
Akhilesh Yadav promised justice to the family and announced an assistance of Rs 45 lakh.
Although he had initially announced a sum of Rs 10 lakh on Saturday morning, it was increased to Rs 20 lakhs by the same evening. But when the family finally reached the CM house on Sunday morning Akhilesh raised this figure to Rs 30 lakh.
An additional Rs 5 lakh each was given to Ikhlaq's three brothers since they are living in abject poverty.
Akhilesh also asserted that the Samajwadi Party will "never do politics" over such matters even as his government came under intense attack from political opponents following the incident.
After a two-hour meeting with Ikhlaq's family, Akhilesh announced a raising of the financial assistance.
"The government is with the family in this time of grief. No one can imagine what they have gone through. I have assured the family that justice will be done and legal action will be taken against the accused," the chief minister told reporters in Lucknow after meeting Ikhlaq's mother Asgari, brother Mohammed Afzal and daughter Shaista.
Eight suspects have been arrested in the case so far. The local home guard was understood to be the main culprit as eyewitnesses described him as the one who intimidated the temple priest to make the announcement in order to mobilise the angry crowds.
Ikhlaq's family members expressed satisfaction over the assurances given by Yadav.
"We are satisfied and hope that the CM himself will ensure what he has said," the victim's mother said.
Ikhlaq's elder brother Mohammed Afzal said, "We were assured that the CM will ensure justice to us and continue to help us in the future."
They had arrived in Lucknow on Satruday evening accompanied by Muradnagar MLC Ashu Malik.
The CM also announced financial assistance of Rs five lakh to Rahul Yadav, the youth injured during a protest in Gautam Budh Nagar in the wake of the lynching incident, an official spokesman said.
Interestingly, Akhilesh's benevolence was awakened only after the visit of Congress vice president Rahul Gandhi who drove down from Delhi to Bisada village in Dadri on Saturday to meet the traumatised family.
Image: Family members of Ikhlaq, who was lynched in Dadri with Uttar Pradesh Chief Minister AKhilesh Yadav, addresses media at his official residence. Photograph: PTI