The situation in Manipur's Imphal valley was calm but tense on Friday after a night of violent clashes, including an attempt to attack the empty ancestral residence of Chief Minister N Biren Singh in Imphal.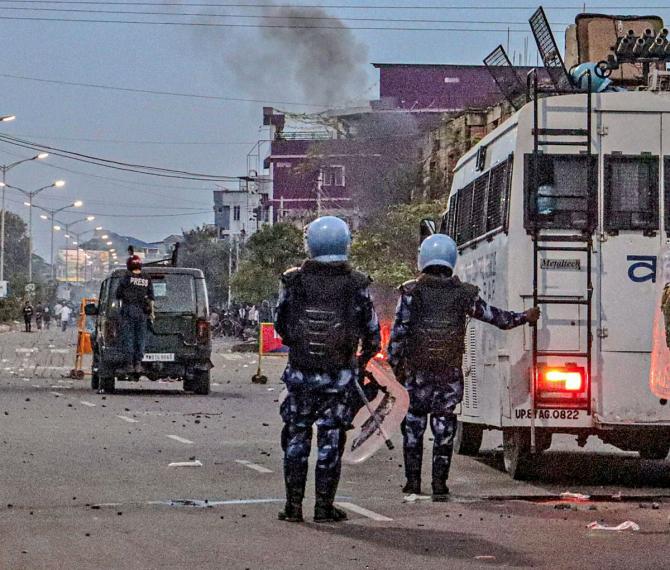 Authorities relaxed curfew in Imphal East and Imphal West districts from 5am to 11am to help people buy essential items and medicines.
With no violence reported during the day, the government lifted the curfew in the two districts from 5 am to 2 pm on Saturday.
"Restriction of movement of general people outside their residences is hereby lifted ...from 5 am to 2 pm. The relaxation shall not include any gathering/ sit-in protests/ rally etc without obtaining approval from the competent authority," said an order issued later in the day.
In a separate order, the Bishnupur district administration said the curfew relaxation in its jurisdiction would be from 5 am to 5 pm on Saturday.
People associated with essential services such as health, electricity, media and civic bodies are exempted from the purview of the curfew.
A mob tried to attack the CM's empty ancestral house on Thursday night, despite heavy security clampdown and curfew in Imphal valley.
Security forces, however, foiled the attempt after firing several rounds of tear gas shells.
"There was an attempt to attack the chief minister's ancestral house at Heingang locality in Imphal. Security forces stopped the mob around 100-150 metres away from the house," a police officer said.
The chief minister lives in a separate, well-guarded official residence in the centre of the state's capital.
Several people were injured in clashes between security forces and protesters at different places in the state capital on Thursday night, sources said.
At Hatta Minuthong in Imphal East, a rally demanding justice for the killing of the two students turned violent after security personnel stopped them from advancing further. A number of people were injured in the incident and had to be admitted to a local hospital, sources added.
A house was torched at Checkon in Imphal East by a mob late on Thursday night. Fire personnel later doused the blaze, officials said.
At Wangkhei, Khurai and Kongba in Imphal East district, protesters burnt tyres and blocked roads with iron pipes and boulders to restrict the movement of security forces, they said.
The Manipur government on Thursday constituted a committee to verify complaints of alleged use of excessive force on protesters, mainly students, by security forces here over the last two days, an official order said.
'A meeting of senior officers of CAPF was held to discuss the present law and order situation in the state. The officers were apprised of the unfortunate injuries of students as well as security personnel,' the state police said on X.
The forces discussed on using minimum force in dealing with the public, especially students.
Appealing to the students to cooperate with law enforcement agencies in maintaining peace and bringing normalcy back early, police said, "Any miscreants taking advantage of the current situation will be firmly dealt with by police."
A fresh bout of violence broke out in the state capital on Tuesday, a day after photos of the bodies of two youths -- a man and a girl -- who went missing in July went viral on social media.
A Central Bureau of Investigation team is currently investigating the killing in the northeastern state which has been witnessing ethnic strife for nearly five months.