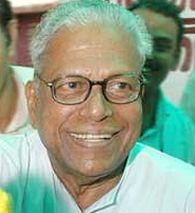 Communist Party of India-Marxist Central Committee's endorsement of the expulsion of three personal staff of former Chief Minister V S Achuthanandan is being seen as a setback to the veteran leader locked in a bitter feud with the dominant faction led by state Secretary Pinarayi Vijayan.
However, in a relief to the Leader, the politbureau and the CC had on Sunday declined to give in to pressures from his rivals to remove him as the Leader of the Opposition in the state Assembly.
The party's state committee, dominated by Vijayan's supporters, had in December decided to expel from the party three of Achuthanandan's personal staff members, including his press secretary, on the ground that they had been leaking out party information to media.
As per the CPM's scheme of things, expulsion from the party would mean that they would lose their job as salaried employees on the personal staff of Achuthanandan in his capacity as the Leader of the Opposition.
A party committee which probed the allegation against them had arrived at the conclusion that the trio had not only leaked internal information but also sought to denigrate the image of some of the leaders while doing so.
Achuthanandan had then objected to the decision and the matter was taken up with the central leadership, which stalled its implementation till it was ratified by the CC on Sunday.
The Marxist veteran is yet to react to the CC decision, apparently waiting for official word from party General Secretary Prakash Karat.
However, political analysts, who see the CC's endorsement as a setback to him, are of the view that Achuthanandan might not remain silent on the development for long.