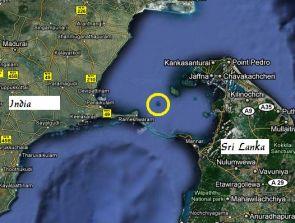 Stepping up its ante against Sri Lanka for its continued attack on Tamil Nadu fishermen, the state assembly Friday renewed its demand to the Centre to regain the administrative control over Kachchatheevu island and surrounding areas, which were ceded to the neighbouring country about four decades ago.
The assembly Friday passed unanimously a special resolution, urging the Centre to take over the control of Kachchatheevu, the second one to be adopted by the House, since it came to power in 2011, to espouse the cause of its fishermen.
Moving the resolution, Chief Minister J Jayalalithaa said in the last two months, seven instances of Lankan navy attacking the Tamil fishermen have taken place and 30 of them have been languishing in prisons in Lanka even now.
Five more fishermen have been in the prisons in the island for more than a year now, she said.
"In this situation, my government has no other option but to seek the control of Kachchatheevu island to protect Tamil fishermen," Jayalalithaa said.
Replying to the debate on the resolution, Jayalalithaa took a dig at her political rival and DMK chief M Karunanidhi and accused him of trying to deceive the people on the Kachchatheevu issue, as he was aware of the transfer of the island to Lanka.
The dual stand maintained by Karunanidhi on Kachchatheevu issue as resulted in the present situation of the state fishermen facing problems, she charge.
In a continued attack on the DMK chief, she said "Since 1996 till recently, except for one month in between, Karunanidhi was supporting various Central governments all along. What he has done to retrieve Kachchatheevu? He should only answer."
Speaker P Dhanapal and Aslam Basha (MMK), J G Prince (Cong), M Arumugham (CPI), A Soundararajan (CPM), and Panruti Ramachandran (DMDK) spoke in support of the resolution, after which it was passed unanimously.