Over the past six months, the neighbourhood primary health centres have remained largely ill-equipped and thus relegated in the fight against the virus.
Nitin Kumar reports.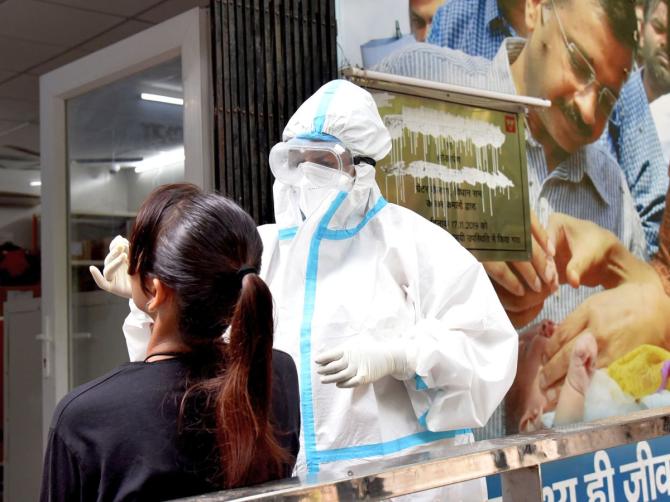 For half a decade, mohalla clinics became one of the storied successes of the Aam Aadmi Party government in Delhi as they made primary healthcare more accessible to its residents and helped Arvind Kejriwal return to power in February this year.
And then came Covid-19.
The mohalla clinics began testing people for Covid-19 mid-September.
But over the past six months, the neighbourhood primary health centres have remained largely ill-equipped and thus relegated in the fight against the virus.
Prior to September 10, only one clinic, in west Delhi's Peera Garhi, was testing patients for Covid.
Since June 30, it has tested over 1,500.
"I am too scared to go to any other centre because if I test Covid-19 positive they might send me to a quarantine facility. Who knows what could happen to me there?" says Reena Devi, 55, as she waits outside the clinic in Peera Garhi.
The clinic conducts rapid antigen and serological tests.
It has a daily testing target of 100 people.
Until mid-September, it carried out 70 serological tests.
"We have resources to conduct more than 200 tests a day, but people's participation is lacking," says Alka Choudhary, district surveillance officer and doctor under the National Health Mission posted at the clinic.
The tests at mohalla clinics are done in two shifts -- 9 am to 12 noon in clinics that are open 7 am to 7 pm, and from 2 to 5 pm at clinics that operate from 8 am to 2 pm.
"We are planning to conduct tests at the maximum centres possible," says Shally Kamra, nodal officer for mohalla clinics.
Since 2015, when the AAP came to power, it has built 484 of the 1,000 mohalla clinics that it promised.
About 450 are operational.
The AAP government did not include the clinics initially as it responded to the coronavirus crisis.
Delhi was soon reeling under the blow of rising cases, as people began to complain of a shortage of beds, ventilators and ambulances.
"When a person was tested positive on March 2, we all got worried about our safety, but the government did not provide personal protective equipment kits to us. We were made to work risking our lives for about six months," says a doctor at a clinic, requesting anonymity.
Primary healthcare, too, was hit as over 150 mohalla clinics were reportedly shut after Prime Minister Narendra Modi declared a nationwide lockdown on March 24.
The number of functional clinics declined further when a mohalla clinic doctor tested positive for Covid-19 on March 27.
As the crisis worsened in May-June, Delhi saw the state government pulling up hospitals, including issuing notices over reporting deaths and violation of guidelines.
The AAP government also issued a controversial order that restricted admission in hospitals to residents of Delhi.
The order was struck down by the lieutenant-governor.
After facing criticism from the Supreme Court, the Delhi government approached Union home minister Amit Shah to intervene.
Now, the AAP government has turned its attention to mohalla clinics after setting up testing camps at markets and bus stands, as daily cases began to grow sharply again after plateauing for a few weeks.
Business Standard visited 12 mohalla clinics.
At most places, doctors complained about lack of masks, gloves and sanitisers.
In such working conditions, social distancing norms were inadequate, they said.
The government is using the clinics to grow its testing tally, says a doctor in West Delhi.
"They are putting us at risk to reduce Delhi's infection rate. It is difficult to manage crowd in small spaces," the doctor adds.
Repeated attempts to reach out to the AAP and the Delhi government through phone calls and text messages went unanswered.
The AAP government kept changing its testing strategy every fortnight, but it remained two steps behind the virus, says Jacob John, a retired professor of virology from Christian Medical College, Vellore.
"It could have asked people to visit mohalla clinics in March, when Delhi was seeing an import of the virus," he says, adding it was the right time to use the clinics as strategic points for systemised testing.
Ritu Priya Mehrotra, professor at the Centre of Social Medicine and Community Health, Jawaharlal Nehru University, says the decision to introduce Covid tests at mohalla clinics was welcome, but inaccurate results from rapid antigen tests remain a worry.