'Our death rate is much less. So far we are doing very well.'
New Delhi's Lok Nayak Jayaprakash Narayan hospital may be India's larges, dedicated COVID-19 treatment facility in the country, but it is also the one that is constantly in the public eye.
Run by the Delhi government, it is, like most government-run facilities, not in great shape.
Dirty wards, not enough attendants, lack of communication with relatives of patients... as if all this is not enough, it was rocked by television footage aired last week showing naked dead bodies lying abandoned in wards.
Defending the hospital against the controversies is Dr Suresh Kumar, the hospital's medical director.
In an interview to Sheela Bhatt and Aniruddh Sheth, Dr Kumar, below, says, "Our mortality rate is only around 2%. 98% success! Can you believe? 98% success. So mortality is just 2 to 2.5%."
People seeking medical care to treat COVID-19 are so afraid of government-run hospitals. Only people who can't afford private hospitals are coming here.
This is a wrong perception. See, some of the people are giving the negative aspect...
You see, this hospital is number one in Covid patient care in the country, the whole country.
In India, it is the number one hospital in terms of patients who are successfully treated.
More than 3,000 patient we have treated successfully, have gone home!
This is the largest hospital in India treating COVID-19. Today also we have 800 Covid patients here. It is bigger than AIIMS in terms of COVID-19 care. The number of beds is much more than in AIIMS.
So what is your explanation for the horrific video footage showing dead bodies left unattended in your wards?
No, no, no, because this is the old hospital and these facilities are for middle class families.
It's not a luxury hospital. This is a hospital run by the Delhi government. And this is made into a COVID-19 hospital.
The first hospital, dedicated, COVID-19 hospital of North India.
Here 54 patients are in ICU.
We have a large number of patients on ventilators.
And we have successfully treated more than 3000 patients.
And we have more than 4,000 admissions, till date.
We have conducted 60 caesarean procedures on COVID-19 positive patients.
And we have more than 300 patients on dialysis.
In entire North India, not a single hospital is doing dialysis of Covid patients.
We have a large number of kidney patients. Any patients having kidney disease and found COVID-19 positive, we treat them...
So, you can imagine the workload.
So what is your explanation, how come a naked dead body was lying unattended?
I want to say that whatever perception you are seeing, that LNJP is not favoured or not good, and quality of care is not good, is incorrect.
I just want to tell you the truth. The fact is we are still number 1 in quality care, it is still number 1 in the outcome.
It is still number 1 in saving human lives in the country today.
Have you enquired into what happened to the dead bodies? Why were they lying neglected?
Dead bodies were like that because CPR (Cardiopulmonary resuscitation) was done.
When patients die we do cardia resuscitation, and we remove the clothes. And that's why it was naked.
Secondly, that patient was catheterised. Urinary catheter was there in the private part and that catheter has to be removed when the patient died. So when we remove the catheter that's why the clothes were removed.
Because when you remove the catheter you have to expose the part, when you do the CPR you have to remove the clothes! So it happens sometimes.
We met relatives of patients. Please listen to them sympathetically, they are saying they want their sick relatives to get discharged from your hospital.
You see, there is a problem with communication. Here is a government hospital. We don't allow attendants to go and meet the patients because it is an infective process.
This virus can infect the family members. So we have a policy to not allow the attendant to meet the patients.
So sometimes their phone is not charged! So they lose communication with the patients, between relatives and patients. They can't talk to the patients.
Sometimes, there's a problem with the telephone charging.
Sometime there is a problem with the clothes.
These are small, minor, problems. And we have limited resources.
Why limited resources?
Limited resources in terms of manpower, like nursing staff.
Ideally, we should give one nursing orderly to help one patient.
Like for 800 patients you need 800 attendants. We have 1,800 nurses. 25% of our staff is on quarantine, 25% staff is on night duty, and we have an eight-hour shift. Still, we have a large number of nurses working in wards.
What is the reason behind the horror stories coming from your hospital?
See most of these are... Like some of the video is motivated video, shot by one of the employees; a frustrated employee of this hospital.
Somebody is doing this. I don't know why this...
There is a procedure for disposing of dead bodies, so why are dead bodies unattended?
No, no. You see, there was a breakdown in the lift, the lift was not operational.
The lift was not working, so there was some delay. And two-three bodies were there in the ward and the lift was not working!
Because the lift was not working it remained there for some time. There was some technical failure in the lift, that's why it happened.
How is the Covid situation in Delhi?
Delhi is doing very well! They are managing this COVID-19 problem very well, so far.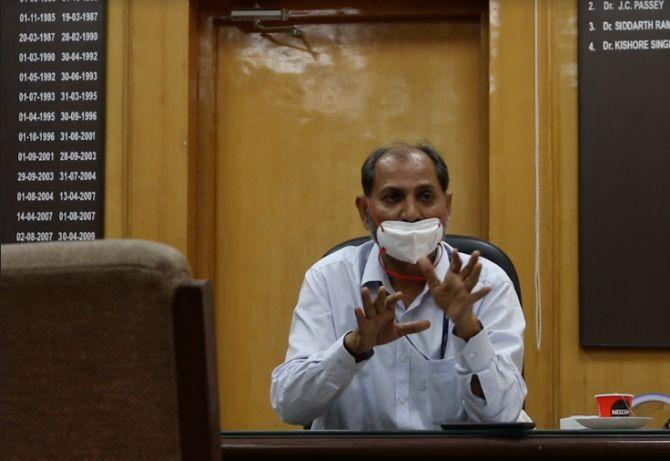 But because the number is increasing, if you see the spread of disease, everyday we have 1,500 cases.
And 10% of them require hospitalisation, means out of 1,500, 150 would be requiring hospitalisation.
These are seriously sick patients. These are the patients whose oxygen is low, they are in distress, there are having breathing problems, they have multi-organ problems. These patients require indoor care.
We are alarmed by the number, every day the number is increasing.
Deputy Chief Minister Manish Sisodia said Delhi will need 15,000 beds by July 31. And here at LNJP 1,200 beds are empty. How do you explain this?
No, no. 1,200 beds are empty because this is a tertiary care hospital. We have other hospitals also.
Corona care units are there where mild cases are kept, we have the hospitals in the periphery.
So for mild cases, isolation, cases, they go there. Only those patients who are critically ill, who are seriously ill, they are here.
What is the biggest shortcoming in managing coronavirus?
The overall problem of the COVID-19 virus is the same.
It is not curable. There is no vaccine, there is no effective drug. There is no anti viral.
So whatever supportive treatment we are giving, we are giving the best.
What is the best suggested treatment by WHO, by ICMR or by the Government of India, we are following that guideline.
And our results are better, because we are managing in a more professional way. Our faculty, our doctors, nurses are doing an extremely good job, they are doing a lot of hard work.
We have 230 senior residents, 235 junior residents, and we have more than 200 faculty, professor-level doctors. They are coming daily and attending work.
What went wrong? Why this dread? Fear?
Some rumours are there, some misinformation is there, some information is not getting across the board because nobody is giving, because we are in the government, we are busy in our work, we are just attending to the patients. Beyond the warden we are not interacting.
Our mortality rate is only around 2%. 98% success! Can you believe? 98% success. So mortality is just 2 to 2.5%.
Only those who don't have money are coming here. When these patients are admitted that's when the tension starts. Relatives aren't told what is happening inside the wards.
That is happening because... No, no, no. There is a communication problem.
Once a patient goes inside the ICU, they can't communicate using mobile phones.
Patient gets serious, requires dialysis, that procedure takes four hours.
For four hours s/he will not be able to communicate with her/his family members. So they will start worrying.
But if they are on the dialysis machine, how will they pick up the phone?
If a patient is getting a Caesarean procedure, they are in the operation theatre, it will take them 12 hours to come out of anaesthesia.
Because of the Caesarean procedure, the anaesthesia given takes up to 12 hours to regain consciousness.
So then the family will start to worry because they cannot contact them for 12 hours.
So these are the technical problems. These are the problems related to COVID-19 care.
It is not an ordinary situation. This is an extraordinary problem.
You see, people's expectations are more. People expect doctors should attend to patients and relatives round the clock.
We need to improve doctors to patients ratio, that is one thing which has to be improved all over the country.
Where is Delhi going now? Will there be an exponential rise in cases?
I can't say that, I can't say that.
I can't predict the future, but the number is going to increase, definitely.
For the next one month, the number is going to increase.
Because more and more people are mobile, because transport is opened.
Urban mobility is there. The patients are coming from villages to Delhi.
The trains are coming from all the states to Delhi. So transport is opened up.
Everything, malls, bazaars shops are opened up. People are mixing.
So once people are mixing, the spread is unavoidable... because people are not obeying the guidelines.
People must follow social distancing. They must wear the mask. They must respect medical advice. Because people are not disciplined as we see in other countries.
Has Delhi followed the right strategy?
Yes, yes! Delhi is much better than many of the states!
How can you say that? Delhi has the most serious cases after Maharashtra.
Maharashtra's number is three-four times more than Delhi, deaths are much more.
Our death rate is much less. So far we are doing very well.
But because we have urban mobility we have patients from NCR. We have no control over patients coming from Ghaziabad, Noida, any of the places in northern India. So people are coming from other states also.