While the process of extracting plasma itself is simple, doctors say that it is the screening of donors, testing and filling up of numerous forms that takes time.
Ruchika Chitravanshi & Sohini Das look at challenges involved in plasma therapy.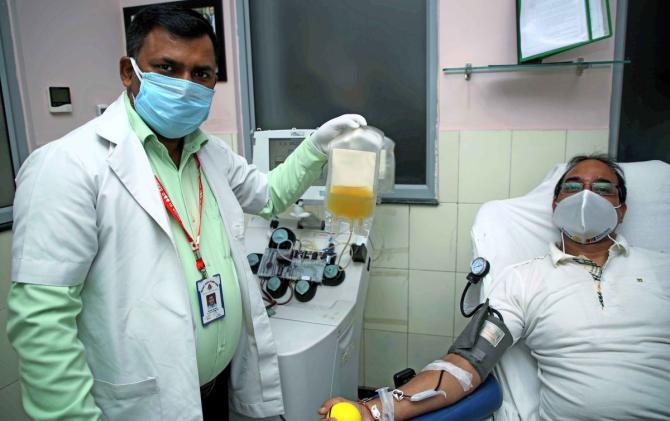 As his mother-in-law, a Covid-19 patient, started developing breathlessness, Gurugram-based management professional Sumit Singh (name changed) sent out an SOS on social media to find a plasma donor.
It took him two days to find an eligible donor to get two units of plasma, one from Delhi Plasma Bank and the other from a Pitampura blood bank. While one asked for a replacement donation, the other charged Rs 18,000 for a single unit of plasma.
"Plasma therapy can only start if your test reports are positive and my mother-in-law's tests came negative twice before we tried another lab... Many people are apprehensive about donating plasma... Thankfully, my mother-in-law responded to the therapy and is now out of critical care," Singh said.
While Singh was lucky when a neighbour's friend came to his rescue, the huge demand for blood plasma ever since it became an off-label treatment has far exceeded the present supply.
"The phone does not stop ringing. We are constantly getting requests for plasma... We are trying our best to meet the demand and providing plasma on a replacement basis," said Dr Meenu Bajpai, transfusion medicine specialist at the Institute of Liver and Biliary Sciences where Delhi's first plasma bank has been started.
From Hollywood actor Tom Hanks to minister in Delhi government Atishi Marlena, many personalities have donated plasma after they recovered from Covid-19, thereby setting an example.
"The hardest part is to find the right donor for the patient and overall to maintain a donor bank," said Dr Sandeep Dewan, director and head of the department, critical care medicine, Fortis Memorial Research Institute.
Dewan said hospitals including his were now maintaining a database of all Covid patients they have treated so that they can reach out to them when the need arises. "We are keeping a record of the name, address and blood group of Covid patients we are treating."
Max Hospitals, which as part of the plasma therapy trials had enrolled 50 patients, went on to treat almost 200 more after the treatment became off label, outside the purview of the study. Though the hospital does not have a plasma bank, it keeps a few units for its own patients for emergency use.
"We have to be very alert to assess that a patient may become a candidate for plasma therapy and tell the family a day or two in advance that it (plasma) might be required and it may make sense to start looking for plasma," said Dr Sandeep Budhiraja, group medical director, Max Healthcare.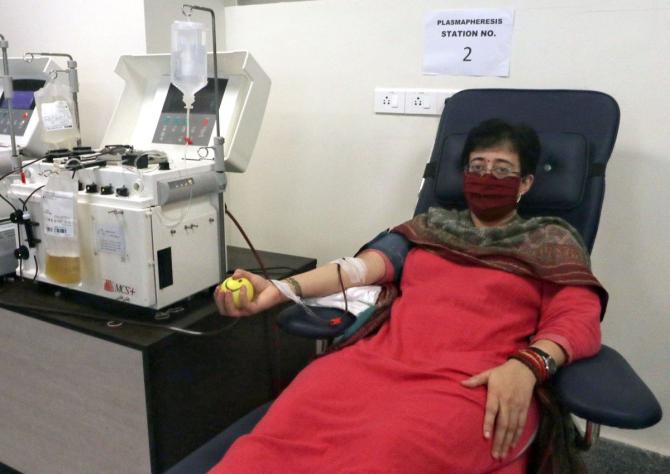 Situation has improved, Budhiraja said, after Delhi started the plasma bank. "Besides sending them requisitions for plasma, we also consult and provide them with potential donors who could act as a replacement for the plasma," he added.
In Kerala, some doctors are using a WhatsApp group of coronavirus patients. The group was created when cases were rising and it helped mobilise people for donating plasma.
Recovered patients can give plasma after a month of recovery. Among women, only those who have never given birth can donate plasma. Medical experts say that the blood plasma of women who have given birth has antibodies which can cause the risk of transfusion-related acute lung injury.
Doctors also said that getting a donor is getting easier than before. The number of donations per day in Delhi Plasma Bank have doubled to over 50 in the last few weeks.
While the process of extracting plasma itself is simple, doctors say that it is the screening of donors, testing and filling up of numerous forms that takes time.
The process itself involves collection of blood through an equipment called cell separator. "The separator starts separating the various components of the blood. Out of this, the plasma is collected in a separate bag, and the rest of the blood goes back to the donor," said Dr Harpreet Kaur, who is in charge of the blood bank at Aakash Healthcare.
This process of plasma collection costs around Rs 10,000-11,000 which includes blood screening charges. For the convalescent plasma therapy, a standard dose of 200 ml has been decided. Around 410 ml of blood is collected and that gives two 200 ml bags (units) of plasma.
Plasma therapy, though not entirely new, is also not an established standard of care, according to medical experts. "The body tries to counteract an infection by forming antibodies and white blood cells. Someone who has had this infection would have antibodies and may also have the white blood cells in the plasma. If that plasma is transfused into another sick person, those antibodies may help fight the infection," Dr H S Chhabra, medical director of Indian Spinal Injuries Center, said.
Plasma is usually given once to any patient. However, doctors claim that in some severely sick patients it has also been given a second time within a period of 48-72 hours after the first dose of plasma.