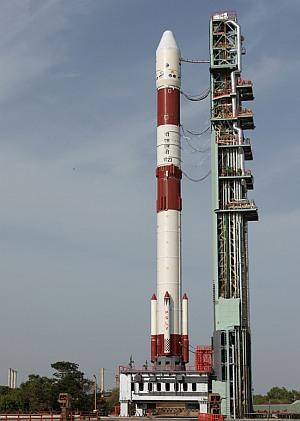 The 49-hour countdown for the launch of Polar Satellite Launch Vehicle C23 will commence Saturday morning.

The vehicle lift-off time is scheduled at 9.52 am from the Satish Dhawan Space Centre SHAR, Sriharikota on Monday. Prime Minister Narendra Modi is expected to witness the launch.
ISRO said, initially the launch was slated for 9.49 am, but now there is a 3-minute delay owing to the probability of space debris in the path of rocket.
PSLV-23 will carry a 714-kg French earth observation satellite SPOT-17 as the main payload.

Besides, it is carrying the 14-kg Aisat of Germany, NLS7.1 (Can-X4) and NLS7.2 (Can-X5) of Canada -- each weighing 15 kg -- and 7 kg Velox-1 of Singapore as co-passengers.
The five satellites are being launched under the commercial arrangements that Antrix, ISRO's commercial arm, has entered into with these countries. So far, ISRO has had 25 consecutive successful launches of PSLV.
Meanwhile, security has been tightened in Chennai and Sriharikota in view of the Prime Minister's visit.

Modi is expected to arrive at Sriharikota Sunday evening.
According to reports, he will reach Chennai airport at 3.55 pm on Sunday and take an IAF chopper to Sriharikota. He will return to Chennai by helicopter at 11.35 am on Monday and take a special flight back to Delhi at 11.40 am.
On September 9, 2012, former Prime Minister Manmohan Singh witnessed ISRO's 100th mission, the launch of PSLV-C21.

On February 25, 2013, President Pranab Mukherjee was at the mission control centre at Sriharikota when PSLV-C20 lifted off.