The first 'Shramik Special' train to Bihar, carrying 1,187 stranded migrant labourers, reached the Danapur railway station in Patna from Rajasthan's Jaipur on Saturday afternoon after a 16-hour journey.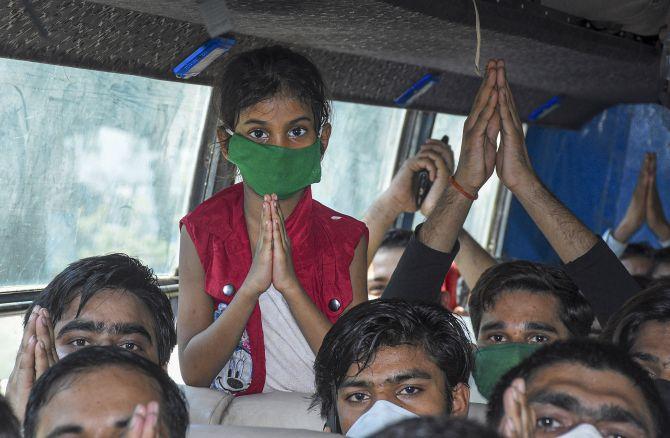 The 24-coach train left Jaipur at 10 pm on Friday and reached the Danapur railway station around 2 pm, Chief Public Relation Officer (CPRO), East Central Railway, Hajipur, Rajesh Kumar told PTI.
The train ran point-to-point non-stop, he said.
A medical screening of the passengers was carried out on arrival at the station by 20 medical teams.
"After the medical examination, they will be served food and sent to their respective districts by buses," Patna Divisional Commissioner Sanjay Kumar Agarwal told PTI.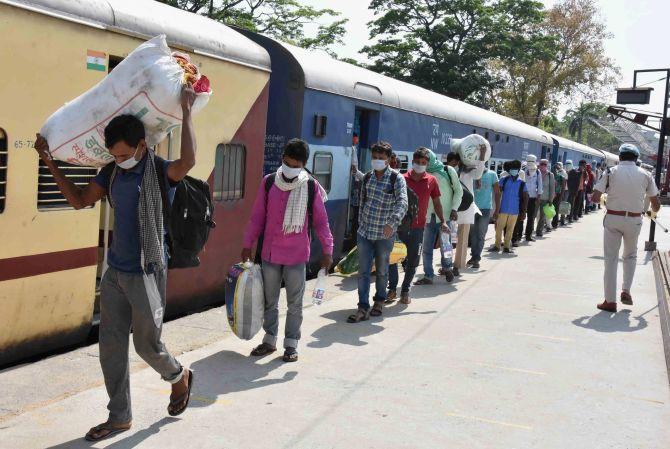 Around 100 buses have been stationed at the Danapur railway station to send these people to their home districts, he said.
Over 1,200 migrant workers, who arrived at Hatia in Ranchi from Telangana late Friday night, also reached their respective districts in sanitised buses on Saturday, with administrative and police officials welcoming them.
The migrants were ferried to their villages in sanitised buses arranged by the Jharkhand government to take them home after preliminary medical screening at the station, officials said.
Food packets were distributed among them before they boarded the buses, they said.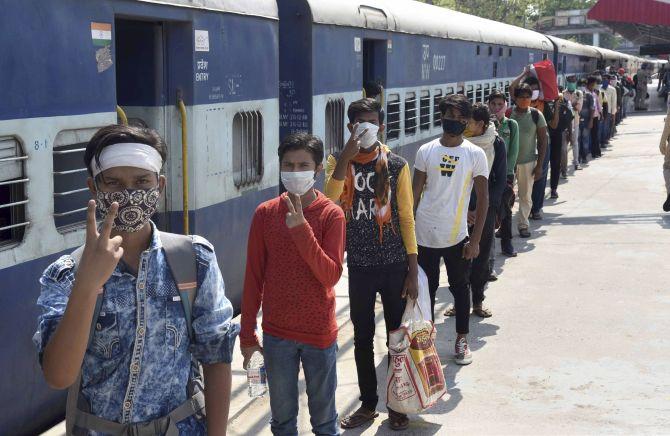 The first special train to transport stranded migrants chugged into the Hatia station, on the outskirts of Ranchi city, around 11.15 pm on Friday.
The 24-coach train had started from Lingampally, in Telangana, at 4.50 am the same day.
A senior official of the Ranchi Rail Division told PTI on Saturday that the train returned to its starting point in Telangana around 2:10 am after it was properly sanitised and all the coaches locked to prevent any unauthorised entry.
A special train from Rajasthan's Kota carrying around 1,200 students belonging to Jharkhand also reached Hatia railway station in Ranchi on Saturday, a senior railway official said.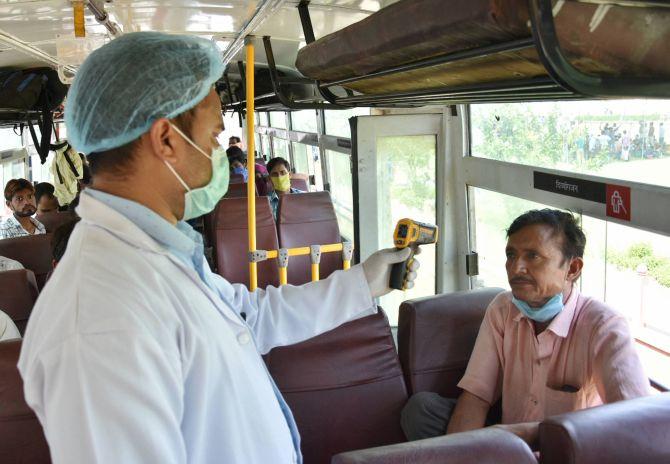 The train entered the platform at 7.05 pm, Divisional Railway Manager of Ranchi Neeraj Ambast said.
These students were stranded in Kota due to the nationwide lockdown imposed to contain the spread of coronavirus. Earlier this week, the Union Ministry of Home Affairs (MHA) allowed the states to ferry migrant labourers, students and tourists back home in buses or special trains.
Ranchi Deputy Commissioner Rai Mahimapat Ray, Senior Superintendent of Police Anish Gupta and other officials were present at the station to receive the students.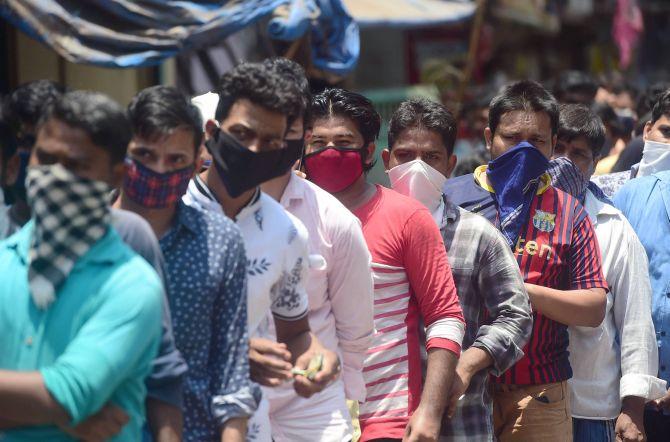 The officials welcomed them with flowers, food packets and water as the students clapped inside the bogie before alighting.
There were over 300 students from Ranchi among those who returned by the special train.
Another special train carrying over 340 stranded labourers from Nashik in Maharashtra reached Bhopal on Saturday morning.
A district official said that the non-stop special train reached Misrod Railway Station on the outskirts of Bhopal.
"The train brought 347 passengers from Nashik. Of these, 13 were from Bhopal and remaining from other districts. After the screening, these passengers were sent to their respective towns in around 15 buses," Joint Collector Rajesh Gupta told PTI.
This is the first special train which reached Bhopal after the Centre's announcement to run such services to facilitate the stranded labourers and workers.
The labourers brought by train are from Dewas, Indore, Jhabua, Khargone, Morena, Sheopur, Vidisha, Jabalpur, Seoni, Rewa, Sidhi, Singrauli, Satna, Shahdol, Damoh, Tikamgarh, Panna, Gwalior, Guna, Ashok Nagar, Bhind, Rajgarh, Datia, Khandwa, Barwani and Betul, he said.
Another special train from Nashik carrying 847 migrant labourers left for Lucknow on Saturday morning, the Central Railway (CR) said.
The train departed from Nashik Road railway station at 10.20 am, Shivaji Sutar, chief public relations officer of the CR said.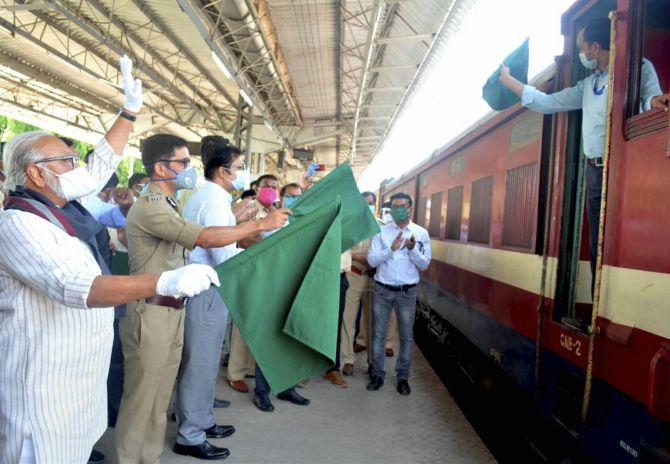 The train will arrive in Lucknow on Sunday and talks are on with officials of many states to ensure their return, said an official.
The train will arrive in Lucknow via Jhansi and Kanpur on Sunday, said Additional Chief Secretary (Home) Awanish Awasthi.
"On Chief Minister Yogi Adityanath's directives, talks are going on with officials of Maharashtra and Gujarat for running more special trains on Sunday," he said.
Awasthi, however, reiterated that the condition for bringing migrant workers back is that respective states provide lists with details of stranded workers along with a certificate that the workers boarding the trains have been properly screened and are healthy.
Another non-stop train carrying around 1,100 stranded 'guest workers' from Kerala left for Hatia in Jharkhand on Saturday.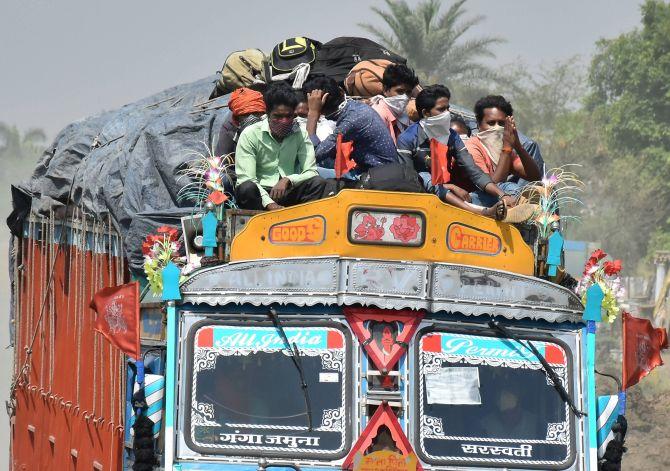 Four more trains are expected to leave with the workers from Tirur, Kozhikode, Ernakulam South and Aluva stations later this evening for Bihar, Jharkhand and Odisha.
The train left the central station here at around 3.25 pm, railway sources said.
The passengers, including women, children and the elderly, are expected to reach Jharkand on Monday, the sources said.
This is the second train which left with the guest workers, a day after around 1,100 migrant workers from Aluva in Kochi departed for Bhubaneswar in Odisha on Friday night.