With projections suggesting the number of cases in the city will touch 75,000 by the end of May, civic authorities are working overtime to add to the number of beds. Sohini Das & Sachin P Mampatta report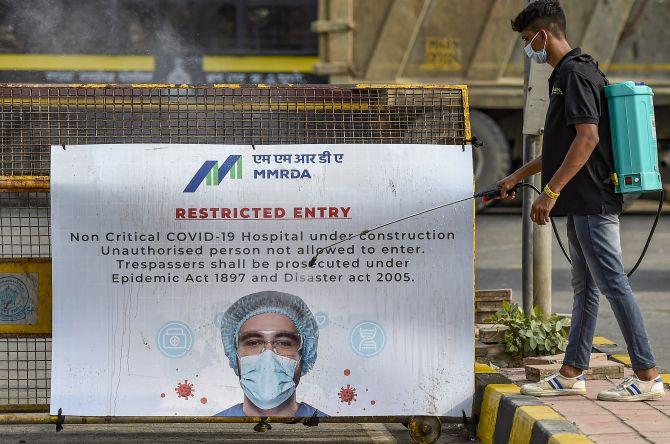 One of the first things that Iqbal Chahal, the new chief of the Brihanmumbai Municipal Corporation, did after assuming office was to visit Dharavi. With infections surging in the congested and overcrowded shantytown spread over 535 hectares and housing innumerable chawls and as many as 15,000 single-room factories, Dharavi has become a huge worry for those fighting to stem Mumbai's Covid-19 outbreak.
Mumbai is witnessing an alarming rise in the number of infections, which stood at 13,564 cases on Sunday. Maharashtra's case load was more than 20,000 over the weekend. The most obvious reason for this is Mumbai's population density. India's financial capital has 20,634 people living in per square km space. According to the World Population Review website, about 41.3 per cent of Mumbaikars, or roughly 9 million people, live in slums.
"With this kind of population density, it is nearly impossible to break the spread of the virus in Mumbai. We have patients who do not wish to go home after recovery as they find the hospital rooms better," said the medical director of a leading private hospital.
With some projections suggesting the number of cases in Mumbai will touch 75,000 by the end of May, the civic authorities are working overtime to add to the number of beds. There are around 7,500 hospital beds in the city. Another 5,000 have been identified in private hospitals. According to rough estimates, there are 750 ICU beds in Mumbai.
The city is also converting its large open spaces into make-shift Covid Care Centres.

The Mahalaxmi race course, Mahim Nature Park, Bandra-Kurla Complex grounds, Andheri Sports Complex, the Richardson and Cruddas factory in Byculla, among others, are getting ready to receive patients. Plus, isolation beds are being organised in around 350 municipal schools, and in hotels, hostels, marriage halls, and gymkhanas.
"Around 25,000 isolation beds can be created thus, and the city administration has identified another 35,000 beds in schools, hotels, hostels, etc. By end of May, most of Mumbai will don the look of a coronavirus city," said someone privy to the arrangements being made.
Mumbai has also been forced to go for stricter hospital admission norms. The contacts of positive patients are now being asked to stay at home, whereas earlier, they were taken to CCCs. However, those who live in small houses (shared with multiple people) or use community toilets are being kept in quarantine centres.
Why did Mumbai fare so much worse than other Indian metros in containing the coronavirus?
Experts cite two reasons -- population density and the lack of coordinated planning on the part of the government machinery. For example, no single senior officer has coordinated the efforts of the four municipal corporations in the city -- the BMC, the Kalyan-Dombivali Municipal Corporation, the Navi Mumbai Municipal Corporation and the Thane Municipal Corporation.
"In Mumbai, instructions were being issued from at least three points -- the Chief Minister's Office, the BMC commissioner, and also the task force. This only adds to confusion," said the chief of a leading corporate hospital.
There have also been flip-flops about the rules of testing and hospital admission. On Saturday, the rule that only government doctors could prescribe Covid tests, and that patients had to go to a BMC quarantine centre to give swab samples, was scrapped.
Assistant Municipal commissioner Suresh Kakani said private doctors could also prescribe tests. Health workers admit that the huge number of cases is taking its toll on the speed of response.
"At first, BMC was doing a wonderful job of contact-tracing. As soon as a positive result came, they would reach the patient's house. But BMC ran short of manpower. Now, there is almost a 10-day time lag between a positive test result and the BMC reaching the patient's house," lamented a health care worker, adding that the situation was complicated by the fact that patients often give wrong addresses to keep their family members from being sent to quarantine centres.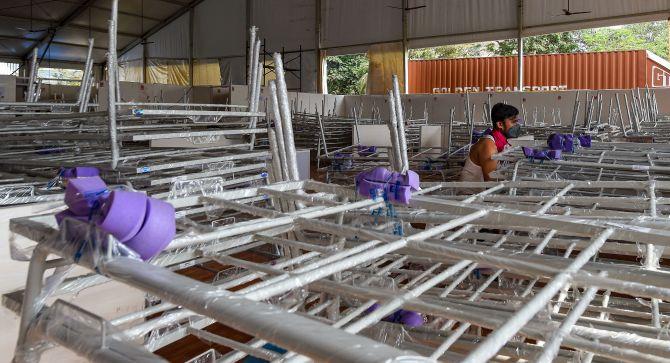 A postgraduate medical student working at Sion Hospital (now known for keeping dead bodies in the same room as patients) said: "We are adding a 40-bed Covid ward every second or third day. Yet we are unable to handle patient flow." Nearly 80 per cent of the patients were critical and often two to three of them were being put on a single oxygen port, the doctor said.
Even KEM Hospital is adding Covid-19 wards almost daily. Hemant Deshmukh, dean, KEM, said at least 40 Covid-19 patients were coming in every day. In comparison, Seven Hills, a dedicated Covid hospital with over 500 beds, was catering to patients with only mild symptoms.
"In the beginning, Seven Hills was the best option to house patients. It is centrally located, and was lying vacant. However, BMC continued to allow Covid patients in other hospitals," said one hospital chief. Currently, Reliance Industries is running over 220 beds at Seven Hills.
Experts point out that Mumbai should have had dedicated Covid hospitals right from the outset. This would have stopped patients from going everywhere and, in turn, infecting the entire health care system. Initially, multiple private hospitals were sealed after their staff tested positive. It is only in mid-April that the BMC realised that shutting down hospitals was not a good idea, and decided to open them up after sanitising them.
Mumbai is also adding ICU beds now. It needs 1,200 such beds over the next two weeks. The 3,000-oxygen support beds are being ramped up to about 5,000 in the next fortnight. More ventilators have been ordered, too. Doctors say that the need of the hour is to create e-ICUs so that a senior intensive care specialist can monitor multiple patients from a remote location.
An added headache for Mumbai is the coming monsoons. If the coronavirus cases peak in June-July, as some projections claim, the city will be hard put to grapple with that along with the usual havoc of the monsoons. Chahal has indicated preparing for the monsoons is a top priority now.