For many the resumption of trains is a big boon, but some say it doesn't come without confusion and worries. Shine Jacob reports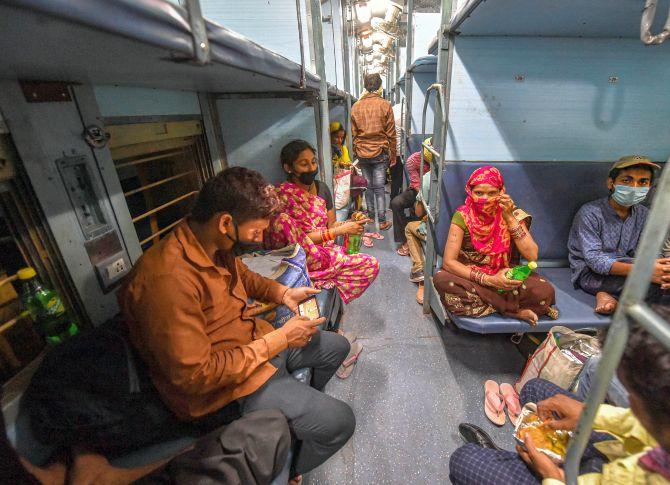 If the Aarogya Setu application is faultless, we are in trouble. It shows that within 500 metres, there are four people diagnosed with Covid-19 out of the 3,068 using the app," said Sudhanshu Singh, a final year pharmacy student at IEC College in Greater Noida, standing in the New Delhi railway station.
For Singh and his friend, Amrish Kashyap, the resumption of passenger services by the Indian Railways after it shut on March 22 has come as a relief. For the past 50 days, he has been eating Maggi noodles and milk. Kashyap and Singh say they are ready to download any mobile app just to get away from such a routine. There is still confusion over whether the government app is mandatory for travellers.
The ministry of railways on Monday said all passengers were advised to download the app. However, in a tweet at 12.27 am on Tuesday it said it was "mandatory for passengers to download the Aarogya Setu app in their mobile phones". Despite this, not all officials or passengers at the New Delhi railway station had downloaded the app.
"There was only thermal scanning at the entry gate from the Paharganj side. Forget the app, getting tickets online was difficult, we got this ticket after paying Rs 1,000 extra to an agent," said Surya Prakash, a student, who was taking the train to Dibrugarh. On Tuesday, 3,461 passengers left the New Delhi station on three special trains -- 1,177 on the New Delhi-Bilaspur, 1,122 on New Delhi-Dibrugarh, and 1,162 on New Delhi-Bengaluru special trains.
In an effort to resume services in a graded manner, eight trains operated on Tuesday from New Delhi, Mumbai, Howrah, Ahmedabad, Patna, and Bengaluru.
Reaching the station was not an easy task for a majority of the passengers. Pramod Kumar Narain from Raxaul in Bihar, who runs a small food stall near Pochanpur in Dwarka, had to walk for five hours to reach the station, followed by a three-hour-long wait for thermal scanning. "For over 50 days, I have had no business. I was able to sustain in the city only after my family sent me some money. Loss of business and rising expenses made even sustenance difficult at times," said Narain.
From May 1, the Indian Railways started operating 'Shramik Special' trains to transport stranded migrants. "Our focus is on moving stranded passengers. So far, over 6,50,000 migrants have been sent home. Now, there will be more trains to transport both normal passengers and migrants," said Vinod Kumar Yadav, chairman of the Railway Board, while addressing the media on platform number 1, before the train to Bilaspur started.
As on Tuesday, 575 'Shramik Special' trains were operationalised across the country. Yadav stated that the national transporter has followed social distancing and hygiene norms to run these trains. "We asked people to bring their own linen and food," he added.
One major concern for a majority of passengers was the lack of onboard food. Randhir Kumar, who works at the Azadpur vegetable market and is traveling to Danapur in Bihar, said, "Lack of food is an issue. We weren't having a great time here for the last 50 days. Was struggling with no food and business, too. I just managed to get the ticket in a matter of a few hours. I don't know what is Aarogya Setu and nobody asked me at the station".
According to the Railways, people will be offered packaged water and ready-to-eat meals on train, but there won't be any catering onboard.
Tasleem Mohammed, a daily wager from Bihar's Katihar district, said had it not been for the Delhi government's free food, he would have died. "I think the government started these trains late. The damage from the lockdown would have been minimised had they started the service earlier," said Mohammed Shamsad, a textile trader, who was stuck in Delhi for over 50 days.
"A lot of people were stuck without jobs or money. For me, this is the journey of my life. My wife is nine months pregnant. I was worried for several days and this train came as a blessing," said Kundan Kumar Mishra from Dibrugarh.