A group of foreigners cooking meth in an isolated house in Greater Noida were in for a shocker as a police team raided the spot in the dead of the night, prompting some of them to attempt jumping off the three-storey building, officials said on Wednesday.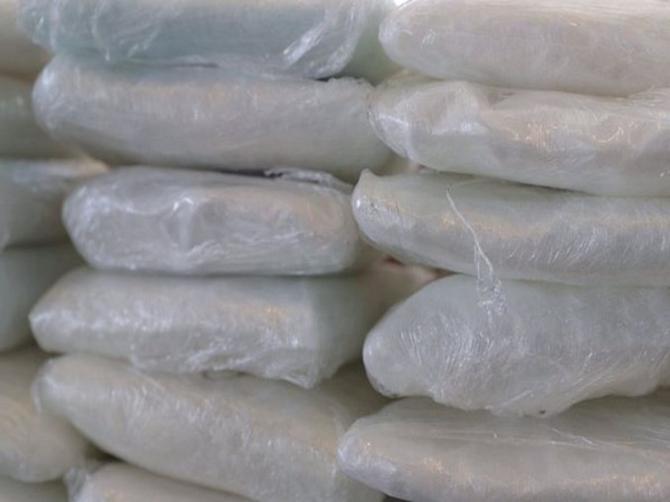 The police were also taken by surprise with what they witnessed -- a sophisticated setup for creating the synthetic drug, intense intoxicating smell inside the compound and the foreigners geared up with high-quality face masks.
"It resembled what we have seen in web series like Narcos and Breaking Bad," deputy commissioner of police (Greater Noida) Saad Miya Khan, who led the raid, told PTI.
Altogether nine people -- eight of them from Nigeria and one from Senegal -- were arrested from the house located next to the Jaitpur-Vaispur village in Sector Theta 2, the police said, adding 46 kilograms of "white, purest" form of MDMA was seized from the spot, estimated to be worth Rs 200 crore.
A team involving officials of Beta 2 police station and the Special Weapons And Tactics also seized raw material which they estimated could be used to cook MDMA worth Rs 100 crore more.
"The police had been getting inputs of such a syndicate of synthetic drug spreading its tentacles in Greater Noida and Noida. Police commissioner Laxmi Singh had clear directions for the department to ensure crackdown on illegal drugs and cannabis," Khan said.
So far, in 2023, in Greater Noida region alone, the police have seized around 1,800 kg of illegal drugs, including cannabis, the DCP said.
"This is the biggest seizure of meth or MDMA in Uttar Pradesh by the state police," Khan said.
According to police officials, in May 2019 over 1,800-kg pseudoephedrine was seized in Greater Noida and three foreigners arrested in an operation by the Narcotics Control Bureau.
But the Wednesday busting of the meth-cooking gang, which has a supply chain in entire Delhi-NCR, was a long-drawn process which took around three months to culminate, the IPS officer said.
The process involved working on manual intelligence and network of police informers, he said.
"The police team had trapped two of the accused into fixing a deal for supply of the synthetic drugs. The duo was held near Dadha roundabout in Greater Noida when they were in a Toyota Etios car.
"These two men, who were found in possession of 5.50 kg MDMA, then led the police team to the three-storeyed house where their other partners had set up the laboratory to cook meth in large amount," Khan added.
The seven persons who were found inside the house, which had a green mesh around it, had high-quality masks on their face, he said.
"There was intense intoxicating smell inside the compound and they were caught cooking the MDMA in a sophisticated setup with a large quantity of raw material kept on the floor. Some of them even tried to jump off the building in order to escape arrest," he said.
Meanwhile, an FIR was being lodged and further legal proceedings being carried out against the nine accused, with DCP Khan saying the police would seek their custody from a court for further investigation.