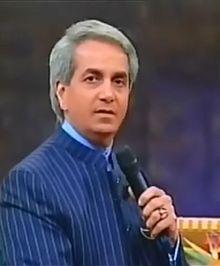 Amidst protests by some Hindu groups in parts of Karnataka, American evangelist Benny Hinn has cancelled his visit to Bangalore on Wednesday.
Saffron groups were up in arms against Hinn's visit, alleging that the evangelist's "hidden agenda" was to convert people to Christianity.
Additional Commissioner of Police (Law and Order) Kamal Panth told PTI, "Earlier organisers had said he will be coming; recently they have sent us a letter with names of pastors attending, which does not mention his name- so they have said he is not coming."
Hinn was to take part in a religious programme organized by a church from January 15 to 19 at Jakkur Airfield in Bangalore.
Vishwa Hindu Parishad leader Praveen Togadia and BJP too had opposed his visit.
Stating that they do not want gullible people to be lured by him, former Minister Suresh Kumar had questioned Chief Minister Siddaramaiah's "silence" over Hinn's visit, especially when he had opposed the self-proclaimed healer in the capacity of deputy chief minister in 2005 Congress-Janata Dal-Secular government.
The Hindu Janajagruti Samiti office-bearers had recently submitted a memorandum to City Police Commissioner Raghavendra Auradkar contending that the convention is illegal as Hinn was arriving on a tourist visa.
The Karnataka High Court on January 10 directed the police to take precautionary measures for maintaining peace in the city during Hinn's visit.
A Division Bench, comprising Chief Justice D H Waghela and Justice B V Nagarathna, had issued directions disposing of a petition by right wing group Sri Rama Sene's city unit questioning police alleged inaction on its representation to restrain Hinn from participating in the religious event as a similar congregation in 2005 had "disturbed peace" in the city.