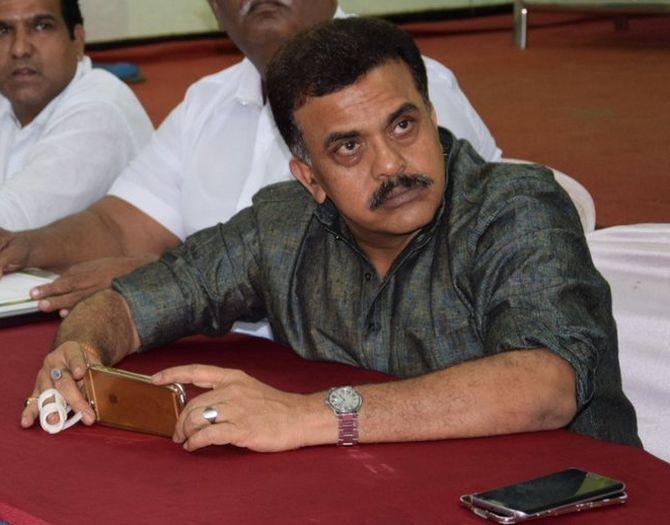 The Congress on Saturday said the party would not support the Shiv Sena to capture power at the Brihanmumbai Municipal Corporation or for installing its mayor.
Congress's Mumbai unit president Sanjay Nirupam also told reporters that the party was planning to hold discussions with like-minded parties for a common candidate in mayor's election.
He said the Congress felt that estranged allies Shiv Sena and the Bharatiya Janata Party would come together again in BMC to reclaim power.
"Congress will not support Shiv Sena for claiming power at BMC, including mayor's post. The party has decided against supporting Sena in the BMC," he said after emerging from a meeting of the newly-elected corporators.
He said several Sena leaders were in touch with Congress on the issue but his party has decided against backing Sena. "We are ready to sit in opposition," he added.
"The party is planning to discuss (prospects of) formulating a separate alliance with like-minded parties and giving a common candidate in mayor's election," Nirupam said.
With the bitterly fought elections to BMC resulting in a fractured verdict, thinking was strong in the Maharashtra Congress that it should consider the option of enabling the Shiv Sena to foist its candidate as mayor of the city, as a tactical move to sharpen the rift in the saffron camp.
The Congress strategists who mooted the idea were also of the view that this move could push the Devendra Fadnavis government into a deep crisis as the Sena would be forced to break out of the alliance in such a scenario.
The mayoral election will be held next month. Though the post is considered ceremonial, it reflects the concerned party's numerical strength in the civic body. The winning candidate requires 114 votes.
Earlier, the Congress's former city chief Gurudas Kamat had said he strongly objected to even any discussion of having a tie-up or indirect support to the Shiv Sena in the BMC.
Kamat, who crossed swords with Nirupam ahead of the campaign for the civic polls, had said the party had fought against both the Sena and the BJP all along for their divisive policies and attempts to align with them will backfire.
Another Congress leader Mohammed Arif Naseem Khan said they would never support BJP or Sena.
"In no way will we ever support the BJP or Shiv Sena. Our national leaders have always fought against communalism and we will continue to do so," Khan said.
The BMC elections saw Shiv Sena emerging as a single largest party bagging 84 seats (now 87 with three independents joining it), BJP secured 82, Congress was relegated to the third position with 31 seats, whereas the Nationalist Congress Part and Raj Thackeray-led Maharashtra Navnirman Sena finished with nine and seven seats respectively.
Besides, All India Majlis-e-Ittehadul Muslimeen got two seats, Samajwadi Party 6, Akhil Bhartiya Sena 1 and Independents 5 (of which 3 have now joined the Sena).