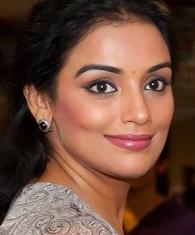 Congress Member of Parliament N Peethambara Kurup was on Sunday booked by police over a complaint made by leading Malayalam actress Shweta Menon, who has alleged that she had been molested by him at a function in Kollam on Friday.
Police charged Kurup, 71, under Indian Penal Code Sections 354 and 354 (A) for assault or criminal force against a woman with intent to outrage her modesty.
Kurup, who represents Kollam in the Lok Sabha, was booked within hours of a police team recording the statement of the actress, during which she stood firm by the charges she had made against the politician.
Menon said she was also harassed by another person during the President's Trophy boat race in Kochi, who has also been charged.
Acting on a complaint lodged by Communist Party of India - Marxist's youth outfit Democratic Youth Federation of India, the police team led by a woman circle inspector went to Kochi today morning to record her statement.
The 39-year-old actress told police at her apartment in Kochi that she was insulted by Kurup and another person during the function.
Shweta, a two-time state award winner and also a TV anchor, broke down while the statement was being recorded.
She, along with her husband Sreevalsan Menon, had told reporters on Saturday night after meeting office bearers of various film industry bodies that she would forward a detailed complaint to Chief Minister Oommen Chandy, whom she is likely to meet on Tuesday.
She also took strong objection to Kollam District Collector B Mohanan for "ignoring" her grievance when he was informed about it shortly after the incident.
Mohanan has claimed that he had not received any complaint from her.
He said he had ordered Kollam's police commissioner to inquire into the complaint from Aisha Potti, CPI-M Member of Legislative Assembly from Kottarakkara.
Earlier in the day, Kurup reiterated that the charge against him was totally untrue and he produced some photographs of the event, claiming that the actress was harassed at the scene by some others.
"I am past 70. I have passed the age of getting excited by the presence of women at public functions," he said.
The incident has triggered strong protests from film fraternity and women's outfits, which have deplored the "failure" of the authorities to act against the MP.