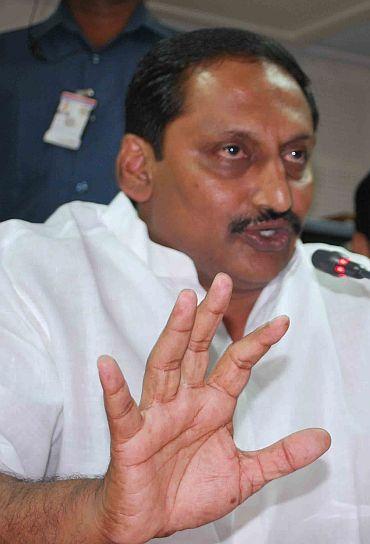 Amid the increasing pressure on the Chief Minister N Kiran Kumar Reddy from the Central government either to end the crisis arising out of the indefinite strike of government employees or face the axe, crucial talks were scheduled to take place between the chief minister and the leaders of the Andhra Prasdesh Non Gazetted Officers Association on Wednesday.
Earlier, the talks between the chief minister and the AP Power Employees Joint Action Committee had failed to break the deadlock and the state remains in the grip of a severe power crisis leading to the blackout in Andhra and Rayalaseema.
Thirty thousand employees of the power sector in the two regions are still continuing their strike. Though the government employees from Seemandhra region have been on an indefinite strike for the past 60 days, the chief minister has invited the APNGOS to talks for the first time.
There are speculations the APNGOs have also developed a fatigue after such a long strike and were coming under tremendous pressure to end the strike from within their own ranks, as employees have not been said for two months now.
Wednesday's talks were likely to yield some breakthrough as both the employees and the government are trying to find a face-saver. Sources said that the APNGOs will put a demand before the chief minister that politicians should take up the agitation against the bifurcation of the state.
The chief minister on the other hand will make a plea to the employees to end the strike as it was causing immense problems and sufferings to the ordinary people.
As an interim relief he will seek the cooperation of power sector employees to resume power generation as it had paralysed even the emergency services (including the hospitals) and people of Seemandhra regions were the worst affected.
There were also warnings that if the power crisis does not ease immediately, the people were likely to turn hostile against the striking employees and the cause of united Andhra Pradesh.
Ironically, while the state-owned power generation plants have been shut down due to the strike, the gas-based power plant of Lanco Group in Vijaywada was continuing to function, generating 90 MW. The plant is owned by Congress member of Parliament and a leader of the anti-Telangana movement L Rajagopal.
The Telanganana Electricity Employees Joint Action Committee has alleged that private power plant owners were behind the strike by power sector employees, to make quick money by selling their power at a higher tariff to the government.