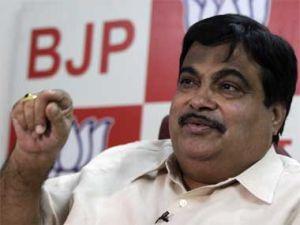 The controversy over the alleged bugging at the residence of Union Minister Nitin Gadkari's house refused to die down with Congress on Monday demanding a probe and government virtually rejecting it.
Gadkari, who holds the portfolio of Highways and Transport, himself calibrated his statement completely denying there was any bugging while yesterday he had described reports in this regard with an ambivalent description that they were "highly speculative".
Union Home Minister Rajnath Singh and his Minister of State Kiren Rijiju declined to wade into the controversy saying Gadkari himself has clarified that these reports were highly speculative.
Asked whether the Home Ministry would initiate any probe into it, Rajnath Singh said, "Since Gadkari himself has denied, we have nothing to say on it."
Unconvinced by Gadkari's dismissal, Congress General Secretary Digvijay Singh demanded a probe by an investigating agency into the episode saying it was a serious matter.
"It concerns the security of an important person in the Indian cabinet. If it can happen to him, then God save the country," he said.
His views were echoed by former External Affairs Minister Salman Khurshid, who also demanded an inquiry.
Another Congress leader Manish Tewari said the government must inform the citizens the legal architecture available to protect themselves from such incidents.
Rejecting the allegations that it was the UPA government that had done the bugging, he said the NDA was now in power and it should put in public domain all details it has about the incident.
Referring to former prime minister Manmohan Singh's statement that a thorough probe should be conducted into the incident, NCP leader Tariq Anwar said the government "must issue a statement in the House about the authenticity of the bugging incident and whether the PMO or any external forces are involved in it".
To a question on whether he had any knowledge of the American National Security Agency wanting to spy on BJP, former external affairs minister Salman Khurshid replied in negative, saying the US had the best of relations with that party.
Noting that BJP had all the resources and powers at its disposal, he said, "If they think there is something they must look at and investigate, then they should do it."
"It is important that they must share the information, once something like this has come out in public domain....They must share the entire information to put public mind to rest and also to make sure that our country remains protected...," he said.
A media report had claimed that high power listening devices were found in the bed room at the 13 Teen Murti Lane residence of Gadkari, who is a former BJP chief.
Blaming the US for the bugging incident, BJP leader Subramanian Swamy said it never wanted "nationalistic" parties such as BJP to come to power.
As the controversy continued, Gadkari insisted that no snooping devices were found anywhere at his residence.
"As already stated, I reiterate that no devices were found at my residence anywhere," he tweeted.
Former prime minister Manmohan Singh said the matter should be probed.
Gadkari himself sought to dispel the reports by terming them as "highly speculative".
Congress said that the alleged bugging reflected "lack of faith and mutual trust" among ministers of the NDA government.