Congress workers launched protests against the new farm laws in several states on Monday, with hundreds of party cadres being held for demonstrations against the three contentious bills that got Presidential assent on Sunday.
Party's state unit chiefs of Delhi, Uttar Pradesh and Gujarat were also detained along with the workers during the protests.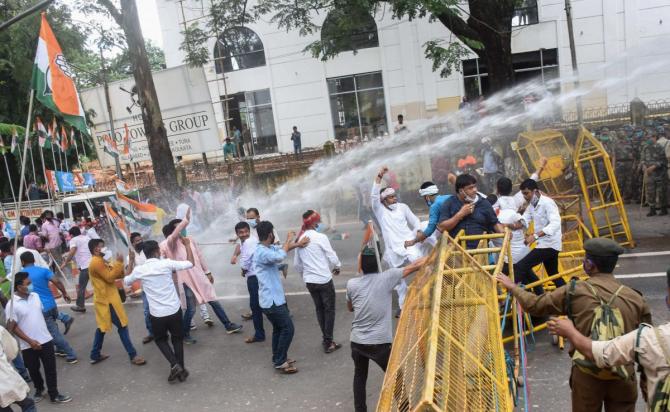 Delhi
Delhi Congress leaders and workers, including its president Anil Kumar, were detained by police on Monday during a protest against farm bills at Rajghat.
Kumar said a protest march from Rajghat to Raj Niwas was also scheduled but police detained party leaders and workers before it could begin.
"We wanted to submit a memorandum to the Lt governor against the farm bills passed by Parliament but we were detained by the police.
"The Congress will not rest till the Modi government withdraws its anti-farmer bills," he said.
According to a senior police officer, several Congress workers were detained.
The detained protesters were taken to a stadium in Hari Nagar, Delhi Congress leader Parvez Alam said.
Gujarat
Nearly 100 Gujarat Congress workers, including state party president Amit Chavda, were detained in Gandhinagar on Monday after they staged a protest against the new farm laws, police said.
In the morning, Chavda, Leader of Opposition Paresh Dhanani, Congress MLAs Baldevji Thakor, C J Chavda and other party workers gathered at the Ambedkar statue near the Assembly complex and raised slogans against the Bharatiya Janata Party-led governments at the Centre and in Gujarat.
They claimed the farm bills recently passed by Parliament were 'anti-farmer and will destroy APMCs'.
Later, the police detained the state Congress chief, Dhanani, MLAs Thakor and C J Chavda, and other party workers.
Around 100 protesters were detained as soon as they started walking towards the Raj Bhavan, Deputy Superintendent of Police M K Rana said.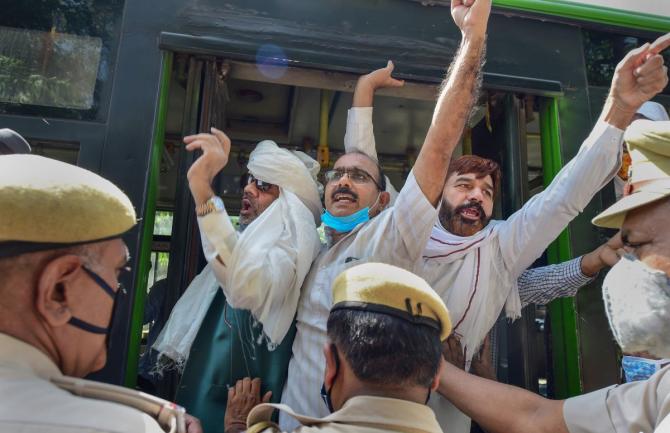 "Since the Congress workers had not taken any permission for the rally, we detained them. We will take a decision about their release afterwards," Superintendent of Police Mayur Chavda said.
Earlier, talking to reporters before his detention, Amit Chavda said, "Not just Congress workers, farmers too are demonstrating across the country against these farm bills, which will destroy APMCs and give wide powers to corporates in deciding the prices."
"The government will now wash it hands from giving MSP (minimum support price) under provisions of these bills," he alleged.
Dhanani alleged that the central government wants to hand over the agriculture sector to some selected companies.
"Where would the small farmers would go to sell their produce in the absence of APMCs? The BJP government is anti-farmer and these bills will turn farmers into farm labourers," he said.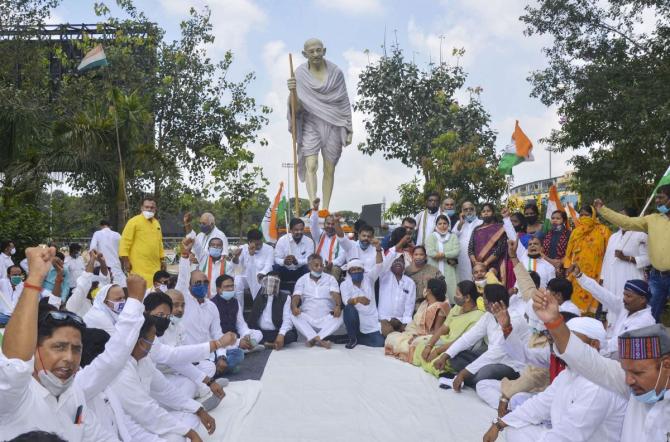 Uttar Pradesh
UP Congress Committee president Ajay Kumar Lallu and other party workers were held while staging protest against the new farm laws in Lucknow on Monday, a party leader said.
Led by the UPCC president, Congress workers from all over the state converged at the Parivartan Chowk in Lucknow and staged a protest against the 'anti-farm' laws, party's media convenor Lalan Kumar said.
While trying to move towards the Raj Bhawan, party workers and its chief were held, Kumar said.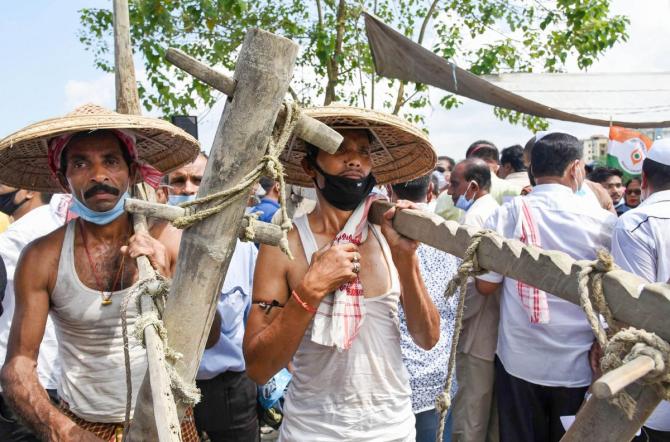 There are reports from some districts that party workers, who were on their way to Lucknow to take part in the programme, were detained and not allowed to proceed, Lalan claimed.
The workers raised slogans against the new laws and said party would force the government to take them back, Lalan said.
President Ram Nath Kovind on Sunday gave assent to three contentious farm bills passed in Parliament last week that have triggered farmers' protest in some states.
These three farm bills are: The Farmers' Produce Trade and Commerce (Promotion and Facilitation) Bill, 2020, The Farmers (Empowerment and Protection) Agreement of Price Assurance and Farm Services Bill, 2020 and The Essential Commodities (Amendment) Bill 2020.