'The farm bills will not bring in corporate zamindari.'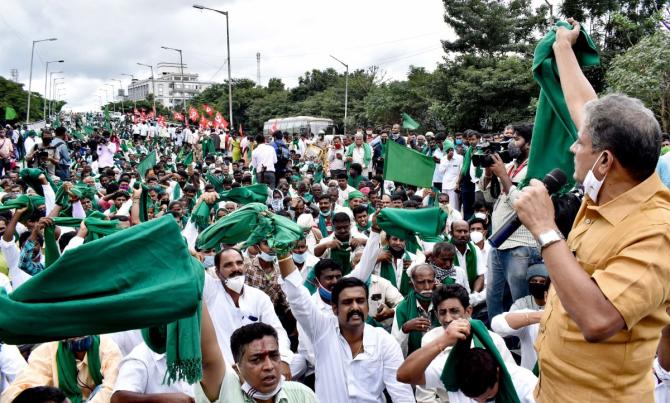 Despite the Opposition's stiff opposition in Parliament the Narendra Damodardas Modi government on Sunday passed two farm bills -- The Farmers (Empowerment and Protection) Agreement on Price Assurance and Farm Services Bill, 2020 and the Farmers Produce Trade and Commerce (Promotion and Facilitation) Bill, 2020 -- by voice vote in the Rajya Sabha, and they now await the President's nod to become law.
The Opposition wanted these bills to go to a select committee of Parliament for a review and demanded that the minimum support price clause be included in the bills.
They also alleged that the new legislation will weaken government mandis, as farmers have been allowed to sell their produce without going through the mandi system, and hence result in exploitation of farmers by corporate groups who will now enter the farming sector.
The government, however, was in no mood to listen to them and passed the bill with a voice vote even as the Opposition alleged foul play.
Minimum support price is the price which a farmer is assured by the government before he harvests his crop. There are 22 crops on the MSP list.
After the bills were passed, Prime Minister Modi tweeted, 'For decades, the Indian farmer was bound by various constraints and bullied by middlemen. The bills passed by Parliament liberate the farmers from such adversities. These bills will add impetus to the effort to double income of farmers and ensure greater prosperity for them.'
However, farmers across Punjab and Haryana have taken to the roads to protest against the bills for not assuring they will continue to get MSP for their crop.
P Chengal Reddy, chief advisor, Consortium of Indian Farmers, however, is clear that the legislation is beneficial for the Indian farmer who has hitherto been held hostage to the mandi system.
"How can your force my product to be sold to the local fellow who is absolutely corrupt and politically connected? They are extremely exploiting the people," Reddy tells Syed Firdaus Ashraf/Rediff.com.
Farmers seem divided over the farm bills. While some are opposing it, especially in North India, there are also others who are supporting the farm bills.
It is not North India, but only Punjab, Haryana and certain parts of Uttar Pradesh.
Farmers's issue is very sensitive and they have been misled on the reforms initiated by Prime Minister Modi.
The existing mandi system was there for the last 40 years and it has in no way helped the farmers.
Local mandis have become a monopoly of local officials and politicians.
The reason there is big agitation today is that they (the Opposition) have created an apprehension that MSP will be go if the APMC reforms come in.
The government has itself said they will have the MSP.
But the word MSP is not mentioned in the bills.
I agree. When they were drafting the bill, they may have faced certain constraints. But I am looking at the advisory part of it.
I am (the farmer) removed from the clutches of the local mandi fellow.
As a cotton producing farmer or pulses producing farmer, today I must only go to my local mandi.
But why should I go? I am in Andhra Pradesh and I want to send my cotton to Gujarat, so what is wrong in it?
If I am producing oil seeds, why cannot I send it to Madhya Pradesh or Rajasthan where it is being processed?
Today I am compelled to sell only to middlemen.
Look at the advantage to a farmer due to this bill. I can get into a long term agreement with some food processing industry.
Tomatoes and mangos are being processed, but transportation, long term agreement are denied to me and I am only to be dependent on the existing mandi system?
In other words, you as a farmer you don't want a dhoti-kurta clad middleman, but you want a tie and coat sporting corporate middleman, is that it?
This is all jargon which I don't appreciate.
The point is, farmers should have alternate channels to market their produce.
Today, there is the sugar industry and milk industry which have long term agreements with farmers. Does it mean they are exploiting the farmers?
There must be some hiccups and problems. Simple, the issue is you are allowing multiple channels of marketing to industrial products and service products but not to farm products.
How can your force my product to be sold to the local fellow who is absolutely corrupt and politically connected? They are extremely exploiting the people.
But the APMCs were established to do away with local moneylenders and zamindars so that farmers can sell their products at a place where the government can ensure they are not exploited. But now you say you want to go to the corporate zamindar!
The farm bills will not bring in corporate zamindari.
The APMC goes back 40 years, have they ever held elections in any state? They (local politicians) don't allow any farmer to be in charge of the market yard.
They make any kind of fellow the market yard chairman and they have established a monopoly.
The market yard places have to be auctioned every two years, but that is not happening and they have become a monopoly.
Today, you have a market licence and it is worth crores in the Punjab mandi.
I as a farmer can take care of myself provided you (the government) allow me to run my own institutions.
But who stops you from contesting elections in the farmers's body?
There are no elections in farmers's; institutions for the last 30, 40 years.
Look at the co-operative bodies.
Take the case of Maharashtra (external link), there is a strong lobby that runs monopolies.
The panchayat system in the country is run by some IAS collector who does not understand the fundamentals of districts.
The answer for farmers is liberalisation.
The Modi government has given farmers freedom.
We have come out of the clutches of these jokers and rascals.
We have come out of restrictions and licences.
Yes, there will be problems for sure in future, but we will face it. You allow us to run our institutions.
But Bihar dismantled the APMC in 20006 and it was a failure. So how will this new law benefit farmers?
Yes, I agree it failed, but you must also see the other states like Madhya Pradesh and Chhattisgarh where they gave a bonus to farmers.
That was opposed by Modi himself when (then and now Madhya Pradesh Chief Minister) Shivraj Singh Chouhan gave a bonus of Rs 150 to farmers for rice and wheat.
He told both (then Chhattisgarh chief minister) Raman Singh and Chouhan that if they give a bonus it will create problems in giving MSP to other state farmers.
And why Modi has brought in these bill is because COVID-19 has destroyed the industrial and service sectors.
The only option he has now is the farm sector, therefore he is bringing in reforms.
As far as the Bihar model is concerned it is a state which is extremely backward.
Today, 90 percent of Bihar's rice comes to Andhra Pradesh because they do not have rice mills. Even the basic infrastructure is not there.
In Andhra and Punjab there are very vocal farmers organisations. They procure 90 percent of wheat and rice through FCI with MSP.
But the same thing does not happen in Bihar and parts of Uttar Pradesh because there is no efficient system there.
On the contrary, in Telangana and Andhra every commodity produced by farmers was procured by the state government.
The fear is that the corporates will hoard food grains leading to prices going through the sky. Being purely profit-minded, won't they exploit the situation?
There is no monopoly in this country in any sector as there are many players. Be it in mobile phones, cinema, hotels or car industry.
Once you liberalise the farm sector, there is bound to be competition.
No Tom, Dick and Harry can store 50 million tonnes of food grains, it is nonsense.
In my own state of Andhra there are rice mills that can hold one lakh tonnes of rice, but that keeps on rotating. Every six months you get a new crop and if you do not circulate your old goods what will you do with your new farm produce?
There are three options today.
One is the local market yard itself.
Second, I can get into an agreement with a retailer or a wholesaler.
And the third option is that I can enter into an agreement with the processing industry. And then there is the opportunity for exports which is huge.
But when prices of food produce shoot up the government comes out with a ban on exports, like with onions recently. So there is inconsistency in the government's approach towards farmers.
It is because the governments are run by IAS officers and the politicians who run the country do not understand the farming issue.
Down south we produce red onions which is about half a million tonnes and not even five kilos of it is consumed in India. These idiots yesterday banned that onion too from exports.
It is a sorry state because from our farmers side there is no good representation.
The Shanta Kumar report says that only six percent of farmers get MSP. Is it true?
Yes, it is true. The entire MSP process has benefited farmers from Punjab, Haryana and Andhra Pradesh in the last 40 years.
But since Raman Singh and Shivraj Singh Chouhan came to power, Chhattisgarh and Madhya Pradesh started procurements.
Till then wheat and rice procurement was only in Punjab, Haryana and (undivided) Andhra Pradesh. The government procured only for vested interests and that too for the public distribution system. The rest they were not bothered about.
And for states like Odisha and Assam they did not bother as the government never considered them to be a part of India. They were aliens and they did not think of them as Indian.
Therefore, you think about why there is no agitation on the farm bill in other states.
The only thing we want is that MSP has to be in writing or for some kind of assurance from the government.
The prime minister of India tweeted though, so let us respect that.
These Congressmen did not utter a word against the Modi government when the M S Swaminathan report was not implemented.
Lastly, you made the argument that these reforms have come because of COVID-19.
When prime ministers are caught in a difficult situation, they look for options which are provided them to by bureaucrats.
And there is P K Mishra in the PMO who is an expert on agriculture and my guess is that someone has advised him, or this is his idea.
This will increase productivity, create employment, processing value addition. This can happen only in the farm sector.
There are 1,453 ongoing irrigation projects. And if Modi can pump in Rs 10 lakh crore and complete these projects, just imagine the benefit it can give to the steel industry, cement industry, transport industry and labour industry.
Once a farmer gets guaranteed water, the productivity improves 10 times and there is not assured but guaranteed returns.
You see Punjab and Haryana, they produce because there is water and good irrigation.
Let them come to Rayalaseema or Vidarbha to produce -- they will not be able to because there is no water there.