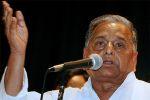 The Congress on Monday dismissed Samajwadi Party supremo Mulayam Singh Yadav's view that coalition politics has come to stay in the country, saying he has not said "something new" and the party is not "bothered."
"We work according to the situation, Whatever he (Yadav) has said is not something new," Congress General Secretary Digvijay Singh said.
Yadav had said on Sunday that the era of one-party rule was over and the future belongs to coalition governments.
"Coalition government is the need of the country as no single party can come to power at Centre on its own strength," Mulayam had said in Maharashtra.
Asked whether Congress is worried after Yadav's statement, he said, "Congress is on its own track. Our track is the policy of Gandhiji, social secular and ideology of Jawaharlal Nehru. Therefore, we are not bothered."
Singh said, "The only thing that Congress is bothered about is people of the country. We are bothered about communal fascist people taking over the country. We would like this country to move ahead. Our utmost importance is to eradicate poverty, malnutrition, illiteracy and create enough jobs for the people and find a place in the world stage."
Asked whether the SP is coming closer to the Bharatiya Janata Party, he pointed out that "when the first time he became chief minister (Yadav), he had the support of BJP."
Commenting on the prevailing political scenario, Nationalist Congress Party leader DP Tripathy said, "Many secular parties will come together. Our effort and demand is that all secular parties come on one platform."
Janata Dal-United leader Devesh Chandra Thakur, however, said, "We do not think there is any scope for Third Front. People will give clear mandate this time. It is true that this is a coalition era so there will be coalition govt. But I do not see any chance of Third Front."